Establishing new connections at networking events is crucial for the growth and success of businesses, and handing out business cards is one of the ways to effectively achieve this.
Gone are the days of traditional business cards, today, digital business cards are revolutionary and taking center stage in one-to-one contact.
The fat growing advancement in technology and the Internet penetration among people of all ages are making it even easier to share business contacts which is done in a more convenient and modern way.
The idea around creating this blog post is to share some viable digital business card options small businesses and professionals can explore today.
We believe that these digital business card options have immense benefits for businesses and professionals, they are easy to customize with your contact details, and users can interact professionally and network more efficiently.
Let's explore together as we look at the best options for sharing business cards in a digital age.
What is a digital business card?
Convenience is one of the most important benefits of digital business cards, in a fast-growing business world driven by technology and innovation you can now share your digital business card details through a URL or email, or other format that makes it easily accessible to the recipient or to your prospects.
Take for example you can share your business card details through a QR code that takes people to a link where they can find your business details on the internet, something like a website, all your social media pages or channels. Also, digital business cards make way for use as a recipient of your card details to be able to save your contact in the delay on the devices.
One of the top technologies that makes way for this is the Near-Field communication technology (NFC) which allowed the seamless sharing of details digitally through a simple tap or gesture.
The major advantage of a data business card is the ease of sharing your contact details with prospects, it is cost-effective when compared to the traditional method of printing business cards. There's a lot that goes into the process of business card printing.
The process of distributing your digital business card is effortless compared to the traditional business card that you need to hand out to people when you meet them.
The process of creating your digital business card will take just a few minutes to generate a professional-looking design.
Information update is also a thing of concern with traditional business cards, digital cards are easy to update, that way your prospects will have up-to-date contact information about you and your business.
Coming to the environment, you can tell that digital business cards are more environmentally friendly compared to paper business cards. Getting rid of more paper waste is key to a sustainable environment today.
Digital business cards will get even more popular in 2023, advancement in technology is paving the way for this momentum already. Reports have it that the global business card market will be worth over $242.3 million by 2027, with an estimated annual growth rate of (CAGR) of 11.2%.
More benefits of Digital Contactless virtual business cards
Limitless cloud storage
Flexibility & shareability
Printing cost eliminated
Interactivity
Two-way contact sharing
Quick workflow
Trackability
Instant updates
Eco-friendly
Cost effective
Best contactless virtual business cards Providers
Owing to these massive stats, you can tell how many benefits and possibilities there are for small business owners. The more the world tends to the digital landscape there will continue to be an immense need for these virtual business cards. In the light of this, here are the top business card services:
1. POPL
Popl is on a mission to become the future of business networking. The platform is offering revolutionary networking services that are powerfully designed to enhance the business and networking experience through its many features.
It allows you to share your contact effortlessly across marketing channels and distribution platforms such as social media profiles, payment gateways, apps, websites, files, videos, and more. You can seamlessly share your contacts at a business event, casual meetups, conferences, etc. With Popl, you can conveniently establish a connection with prospective customers and turn them into paying clients.
One of the many impressive features of this digital networking platform is its versatility in contact sharing. you just have to tap on get started, you can connect your Popl accessory to the back of your iPhone or Android smartphone, that way you can instantly and easily exchange contacts sharing your prospects without them needing to download an extra app on their mobile.
Even more, there is an in-app Popl QR code, that's equipped with smart and advanced analytics to help you perform unlimited scans, and share your digital business card in the most convenient way.
Popl is trusted by over 5,000 companies globally and has facilitated over 25 million digital business card shares worldwide.
Using Popl accessories is pretty straightforward. Pick the best that appeals to you out of the available packages. Next, download the free Popl app to your device and then create your digital profile. Once you have your POPL products, you can get them activated and linked to your profile.
Finally, start sharing your information using the in-app QR code or your Popl accessory.
Popl works well for both individuals and teams, providing awareness-creation solutions for every professional. It doesn't matter if you're just an individual looking for an advanced digital business card or a team seeking efficient management of digital business cards, Popl has immense benefits for you.
Aside from its networking capabilities, Popl is a sustainable solution that is environmentally friendly, replacing paper business cards with technology thus helping to save the forest and promote eco-friendly practices in society.
2. Blinq
Blinq is another ultimate Digital Business Card Service that seeks to help you make a lasting impression with your potential clients and customers at networking events.
The Blinq digital business card has got a lot of perks up its sleeves. It is one of the most trusted solutions in this niche, you can tell from their clientele which includes the like of Google, Uber and so on.
Blinq offers its users contact management that is out of the box making it simple and easy to exchange contacts.
You can seamlessly share contacts from your Apple Watch, getting rid of the need to take out your phone.
You can also extensively customize your business card with your company logo and color scheme, maximizing marketing impact. You're empowered to do so in the best way it suits your brand.
Blinq also allows you to integrate Martech stacks such as Zoom and MS Teams virtual backgrounds so that you can enhance your visibility.
Data Prioritization and security are in place to make sure that contacts are shared in the best-secured way.
We love the fact that Blinq allows you to share your card without any known limitations, not even an internet connection can come in the way of your contact sharing.
You can also make use of the Apple Watch app to share QR codes with potential clients.
Personalize contact cards with notes for a more memorable interaction.
Create dynamic email signatures for added professional appeal.
If you're looking for a reliable way to leave a lasting impression and effortlessly connect with your prospects in this current digital era then Blinq might just be the best option for you.
3. V1CE
V1CE offers digital business card solution through their NFC-enabled cards which is available to be shipped worldwide. It gives you the luxury of carrying your business card digitally on your mobile. To get on V1CE a subscription or app is not needed to start using their digital business card solutions.
You're allowed to also make a choice of the premium material finish including plastic, bamboo, or metal, for your NFC card. If you want a personalized design, they have in-house designers on standby to assist you with that. Managing your information is simplified, making it easy for your users to always get updated information about you or your business.
Their digital business cards are stylish and sharing contact is effortless in the absence of any monthly charges or fees. Your NFC card will also come with a QR code so that older devices can also communicate.
A few shortcomings of the V1CE's physical cards is the fact that there are no free options, you're required to make an investment to get on board.
Blinq is a great digital business card platform that offers all-inclusive features. Their business cards are easy to create, and the platform is used by top industry-leading companies which include Google, Tesla, and Uber. With Blinq, there is a wide range of sharing options available to you such as QR codes, Apple Watch integrations, Smartphone widgets, and NFC.
4. Beaconstac
Beaconstac offers digital connectivity and networking solutions for anyone who is looking for modern yet sophisticated means to consciously build their business network.
This digital business card service offers some amazing features such as their creative and seamless digital QR code data while customizing colors, logos, backgrounds, sharing functionality that helps to experience a hassle-free sharing process while exchanging contacts with your prospects, you do not need to use an additional app in the process, all you have to do is share via Apple or Google Wallet.
Beaconstac is also making significant effort towards making sure that the process of sharing contacts on their platform is secured, this explains why they have the SOC-2 Type 2 by Strong DM to handle sensitive information of its esteemed clients.
There is also considerable effort made towards making sure that users are GDPR compliant and on the client side, users can use the multi-factor authentication as a extra security layer.
They have a centralized card management dashboard where you can limitlessly customize your account. You can also integrate Beaconstac with your CRM software of choice; it supports integration with over 5000+ CRMs and HR software.
You'd also have access to insights and get substantial feedback on your your engagements efforts.
In a few clicks you can set up your digital business card details, if you need help or feeling stucked, you can use their responsive customer support to get help.
5. HiHello
Next on our list of top digital business card platforms is the HiHello app. If you are looking for a powerful digital business card that is cost-effective and comes with a built-in contact manager tool designed to help you organize your business network.
Users can easily create customizable digital business cards and seamlessly share them with others through various channels such as QR codes, email, text, and social media. The app also offers a self-healing address book feature that automatically updates contact information and allows users to organize their contacts effectively.
You'd also have access to a business card scanner to convert physical cards into digital contacts. The app offers virtual backgrounds for online meetings and a signature generator for professional email signatures.
For businesses, HiHello offers a team solution with branded digital business cards and advanced features like corporate branding and administrative control. With its user-friendly interface and eco-friendly approach, HiHello is highly praised by users across various industries for its convenience, versatility, and effectiveness in networking.
Whether for individuals or businesses, HiHello offers a comprehensive solution for creating and managing digital business cards.
6. Retrēv
Retrēv is a digital business card service built on modern technology to help users build a versatile network. It offers an innovative card transfer making it possible to share contacts with simple tap to smartphones, this way you'd be able to lessen or completely eliminate the risk of missing cards and missed connections too.
Retrēv also uses the NFC technology to instantly send key information like contact details, social links, and business websites with a single tap or scan between users.
The service provider also provides a built-in analytical system to get realtime insights and you also have access to a powerful dashboard to manage your business details. With the "Tap Analytics" feature, you can track when someone saves your contact info, monitor the number of contacts and devices connected, and identify which links on your page receive the most attention.
Retrēv offers unbeatable value at pocket-friendly rates for their premium business cards, allowing you to share information indefinitely with unlimited taps and unlimited contacts. Some of their packages include a metal business card, a plastic business card, and a phone sticker, all at no additional cost.
Compatibility is also not an issue since Retrēv works with virtually all modern smartphones. Plus, their cards are assembled in the USA, ensuring quality and security. The company also maintained that their products are hand-assembled and encoded to prevent any form of malware or viruses' software from foreign manufacturers.
Retrēv Pro takes your marketing efforts to the next level. When you upgrade to their paid plans, you'd be able to unlock a plethora of advanced features such as embedded videos, photo galleries, PDFs, additional links, and more.
7. Mobilo
Mobilo offers a cutting-edge business solution for modern professionals seeking to make a lasting impression and effortlessly exchange contact information with their contacts.
Mobilo offers multiple NFC options, such as picking an NFC card, NFC key fob, or NFC smart button, and attaching it to the back of your smartphone. It's that simple!
You can customize your contact information a lot easily using their user-friendly interface, and you can choose from four powerful modes: business card, landing page, lead generation, and linking to any URL.
Now, here's the hoot that will blow your mind: Mobilo not only lets you network like a pro, but it also provides you with insightful results from your networking efforts. Those generated leads? They're instantly lined up for follow-up sequences, saving you time and money.
And that's not all – Mobilo is a multi-functional wonder! You can Connect it to your HR system to automate on and off-boarding, create unique email signatures for your team members, and embrace the world of interactive QR codes. Customize your digital business card's QR code to match your brand, elevating your professional presence.
While the landing page design of this business card tool is minimalistic, it might not suit those seeking a more elaborate design. Another small drawback is the lack of video support for now.
Now, let's talk about pricing – the cherry on top! Their NFC cards are made in different kinds of finishing, so the pricing depends on the type of card you decide to go with. $4.99 (one-time cost) is the price for personal use plan. If you have a team of employees, the pricing is tailored to the number of team members, making it a cost-effective solution.
8. Linq digital business card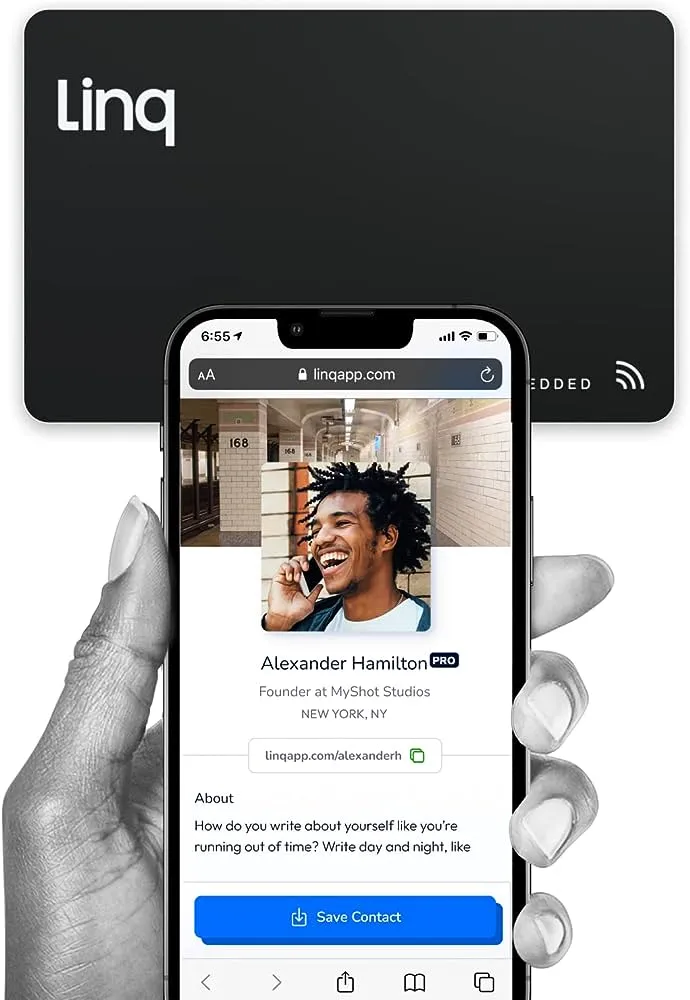 Linq is a dynamic digital business card solution that revolutionizes networking. With its customizable page, multiple profiles, and follow-up reminders, users are empowered to convert leads generated into loyal customers seamlessly.
The solution is fully customizable and equipped with video embedding for users on the LinqPro, helping to leave a lasting impression on your prospects.
You can also choose from various options like tags, custom cards, for example, one in matte black finishing, badges, and more, ideal for networking events.
Enjoy real-time analytics, seamless CRM integration, and flexible team subscription plans. While some find the card app less intuitive, Linq's pricing starts at $11.99, with the networking bundle priced at $44.99, making it an invaluable networking asset.
9. Haystack digital business card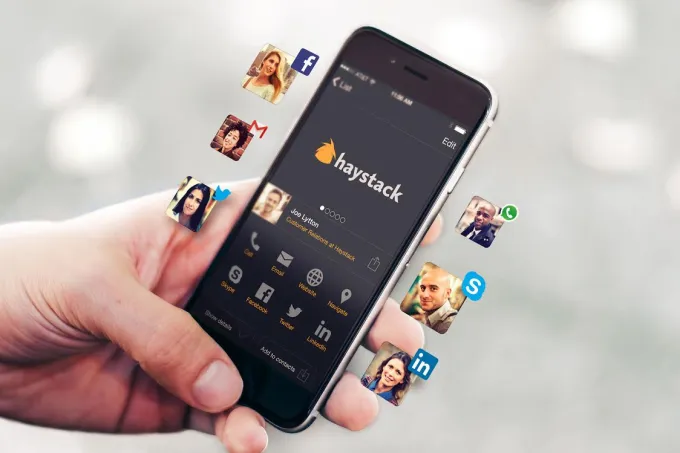 Haystack is a leading provider of beautifully designed digital business cards, it's one of the most patronized digital business card services globally, Haystack helps you to create a lasting impression on your leads, and also drives traffic to essential touchpoints in your business such as your website and social media.
Its unique QR code and URL simplify contact exchange, while caller details are saved on your device. Privacy and security are also prioritized by this provider, and the free plan offers unlimited card creation and contacts.
Opt for premium plans to access analytics and a vanity URL. Integration with leading enterprise solutions and CRMs streamlines management. A few downsides of the tool are, first, the lack of NFC option and secondly, the fact there is no analytics feature for non-premium users. Their Plans start at $4.95 per month.