Having a website is very crucial for any small business that wants to thrive in today's competitive market, a website is the starting point to establishing a solidified online presence, reaching a wider audience, and attracting new customers.
According to Stats by Fitsmallbusiness.com, 71% of small businesses have a website.
A website can be likened to your business office online, due to the fact that it provides important information about your business to your prospective clients, customers, and stakeholders. Users will have access to firsthand information regarding your business goal and mission, your products or services, location, contact information, and even more.
This can make it easier for potential customers to learn about the business and make decisions about whether to use its services.
Also achieving credibility and professionalism should be one of the major goals of any small business today, it can inspire confidence in customers and help the business to stand out from its competitors, and interestingly a website can put your business on the path to building trustworthiness and attract loyal customers that wouldn't stop coming for more.
This is why We at Web Design Nigeria has helped thousands of small business owners and individual create a website and we can equally help you too.
Why do Small Businesses need a Website?
There are several reasons why small businesses should be particular about having a website, including the following:
Increased visibility: A website helps your business to be visible to a wider audience, including potential customers who may not be able to come in contact with your business through traditional means such as print advertisements or word of mouth.
Improved credibility: A well-designed and professional-looking website can help supercharge the credibility of your business in the eyes of potential customers/clients. This is especially useful for small businesses, which may not initially have the same level of brand recognition as larger and well-established businesses.
Enhanced customer service: A website can serve as a unique platform to give valuable information to customers, such as your business hours, location, and contact information, extensive and detailed information about your business and offerings, guides to help your customers keep informed and so much more. Research has it that a resourceful website helps to improve the customer experience and make it easier for customers to find you and aid their decision to do business with you.
Increased sales: Cash flow is important to every business. A website can function as a robust marketing platform to drive sales, this is done by providing a convenient and easy-to-use platform for customers to purchase your products or services. This can be especially useful for small businesses that may not (necessarily)have a physical storefront or the resources to invest in other forms of advertising.
Cost savings: Online marketing is one of the cheapest forms of marketing today, owing to the fact that most of the aspects are cost-friendly. A website is no doubt one of the cost-effective means for small businesses to reach their potential customers, as it can be much less expensive than traditional forms of advertising such as print ads or TV commercials.
Competitive advantage: The competition is heated up right now in today's business world, this is due to advancements in technology and better technology penetration, more businesses are getting online and jostling to have their business positioned, and having a website is increasingly becoming a necessity for small businesses to thrive in today's modern business world. By not having a website, you may be putting your business at a disadvantage compared to your competitors who do have one. This could result in lost customers and revenue for your business.
List Elements required to build a business website
Next, let's examine some of the required elements to build a professional small business website:
A domain name
A domain is simply the address that leads people to your website on the World Wide Web, such as "www.yourbusiness.com.ng". To get a domain name for your business, you need to find a domain hosting company usually called a domain registrar to purchase your domain name. There are several domain registrars today, to mention a few, we have Namecheap, Mode Web Host, GoDaddy, Interserver, etc.
Tips to come up with a good domain name for my business
When choosing a domain name for your business, there are a few key things to consider:
Keep it simple: No matter what, Always resort to choosing a domain name that is easy to remember and spell. Jettison uses numbers or hyphens, as these can make it difficult for users to memorize and type correctly.
Use keywords: If possible, incorporate your industry keywords in your domain name that are relevant to your business. A typical example is Shopify which offers one of the most powerful platforms to build an online shop. This is a smart way to improve your search engine rankings and make it easier for potential customers to find your website online.
Make it brandable: A great business domain name should be unique and memorable. You can achieve this by avoiding generic or common words, instead, coming up with something that sets your business apart from the competition.
Keep it short: Needful also to say that short domain names are super-easy to remember and type. In this regard, you should focus on getting a domain name that is no longer than three or four words.
Check for availability: Before you decide to go for a particular domain name, you need to check and be sure the name is available for purchase and not already taken by someone else. You can do this by using any of these domain name generator tools.
In a nutshell, the best domain name for your business should be one that is simple, memorable, and relevant to your business.
Web Hosting
Web hosting providers are service companies that provide the server space and technology necessary to host/house your website. There is a ton of web hosting companies to partner with for your hosting service, at varying cost, depending on the type of plan you required to build your business website.
But before, you decide to buy from any provider, here are some tips or factors you should have in mind:
Tips to Pick the Best Web Hosting Provider for a small business
Cost: For every small business owner, the cost is an important factor to choose a web hosting provider that offers competitive pricing. You want to make sure to compare the costs of different providers to find the one that offers the best value for your money.
Reliability and uptime: This is a very important factor, the reliability and uptime of your web hosting is important for the success of your website, hence there is a need to pick a provider that has a high uptime guarantee so that you can rest assured that your website is always available to your customers.
Customer support: A great hosting provider must provide its users with access to quality customer support. Engage only with the service of a web hosting provider that offers 24/7 customer support, so you can get help whenever you need it.
Security: Security is another key consideration when trying to choose a web hosting provider. A good web hosting provider must offer robust security measures, such as regular backups and SSL certificates, to protect your website and your customer's data.
Scalability: As your small business grows, you may need to increase the resources and capabilities of your website. The ideal web hosting provider should offer scalable solutions that make it possible for its customers to easily upgrade as the need arises.
In a nutshell, the best web hosting provider is one that offers competitive pricing, reliable uptime, quality customer support, robust security measures, and scalable solutions. You need to keep these factors in mind, that way you can find a provider that doubles as your online business partner in success.
Content Management System (CMS)
This is the software that allows you to easily create and manage the content on your websites, such as text, images, and videos. Popular CMS options include WordPress, Joomla, and Drupal.
WordPress is a small-business-friendly open-source content management system (CMS) that is designed for ease of use and extensive customization when it comes to building modern websites. It offers a wide range of features and functionality, including the ability to easily create and manage content, add images and videos, and integrate with other web-based tools and services.
WordPress also has a large community of users and developers who offer support, resources, and plugins that can help small businesses get the most out of their websites. Overall, WordPress is a good choice for small businesses that want to create a professional and effective website.
According to WordPress Statistics from Hubspot; WordPress is the most popular content management system (CMS) today, with 43.2% of all websites on the internet using it. WordPress is also the most popular CMS among websites that use a CMS, with 65.2% of websites using CMS. In terms of the top 1 million websites in the world, 36.28% of them use WordPress.
Also, WordPress has been the fastest-growing CMS for 12 years in a row, with roughly every two minutes, another top 10 million sites starting to use it. These statistics demonstrate the widespread popularity and success of WordPress as a CMS.
How Much Does It Cost To Build A Website In Nigeria
The cost of web design in Nigeria varies from one agency to another. However, the cost of building a small business or personal website can range from ₦50,000 to ₦10,000,000. Aside from the agency pricing factor, there are other costs that come into play when determining the cost of developing a website; first is the required feature and specification of the website, next is the design and the layout, and finally, the quality and scale of resources that are needed to be deployed for the project; a small business website can run on a shared hosting that costs only a few thousands of Naira per month, while an enterprise solution might require a cloud or dedicated hosting solution that costs hundreds of thousands of naira per month.
Below is a table showing some of the elements required to develop a website and the cost estimate for each:
| Item | Cost Estimate |
| --- | --- |
| Domain Name | ₦1,500 – ₦18,000 per year |
| Hosting | ₦1,800 – ₦10,800 per month |
| Website Design & Layout | ₦18,000 – ₦72,000 |
| Professional Logo | ₦5,000 – ₦300,000 |
| Ecommerce features | ₦30,000 – ₦180,000 |
| Website Maintenance | ₦3,000 – ₦72,000 per month |
| Site Copies and Content | ₦30,000 – |
| SSL | ₦0 – ₦100,000 per year |
| Payment gateway Integrations | ₦50,000 – ₦520,000 |
| ERP integrations | ₦50,000 |
Website content
This is the information that you want to include on your websites, such as your business history, products or services, and contact information. You should carefully plan and organize your website content to ensure that it is clear, and concise in a way that it provides all the necessary information required for your prospects to get to know your business.
To Hire a Web Developer or Do-It-Yourself?
As a Small Business owner, should You hire a professional web designer to handle the development of your website or Do-It-Yourself?
A business website is not something that should be done with trial and error, one of the major goals of creating a website is to be a marketing tool that you can use to command awareness around your business and boost your marketing reach, creating a business website should be approached with much precision.
You can either create your own website design yourself or engage the service of a professional web designer to do it for you. The optimum goal is to have a professional-looking website that is easy to use and speaks great customer experience.
A professionally designed website can help establish credibility and trust with potential customers, and can also help improve search engine rankings. In most cases, it's a good idea to hire a professional web designer to oversee the development of your website.
There are several reasons why it's generally a good idea to hire a professional web designer to handle the development of your website. Some of the main benefits are:
Expertise and experience: Professional web designers have the knowledge and experience to innovate a high-quality website that fits well with your specific business model. They are skilled at using the latest design technologies and methodologies to ensure that your website is functional, user-friendly, and visually appealing.
Save time and hassle: Designing and developing a website can be a time-consuming and complex process, especially for the non-tech savvy. By hiring a professional, you can save yourself the hassle of trying to figure it all out by yourself and focus on running your business instead while the Web specialists do their thing.
Improved search engine optimization (SEO): A professional web designer will have the knowledge and expertise to optimize your website for sound web positioning on search engines, which can help improve your search engine rankings and drive more traffic to your site.
Greater flexibility and customization: Engaging a web design agency can be the right decision especially when you need to create a custom website that is tailored to your specific business needs and goals. This can give you greater flexibility and control over the design and functionality of your website.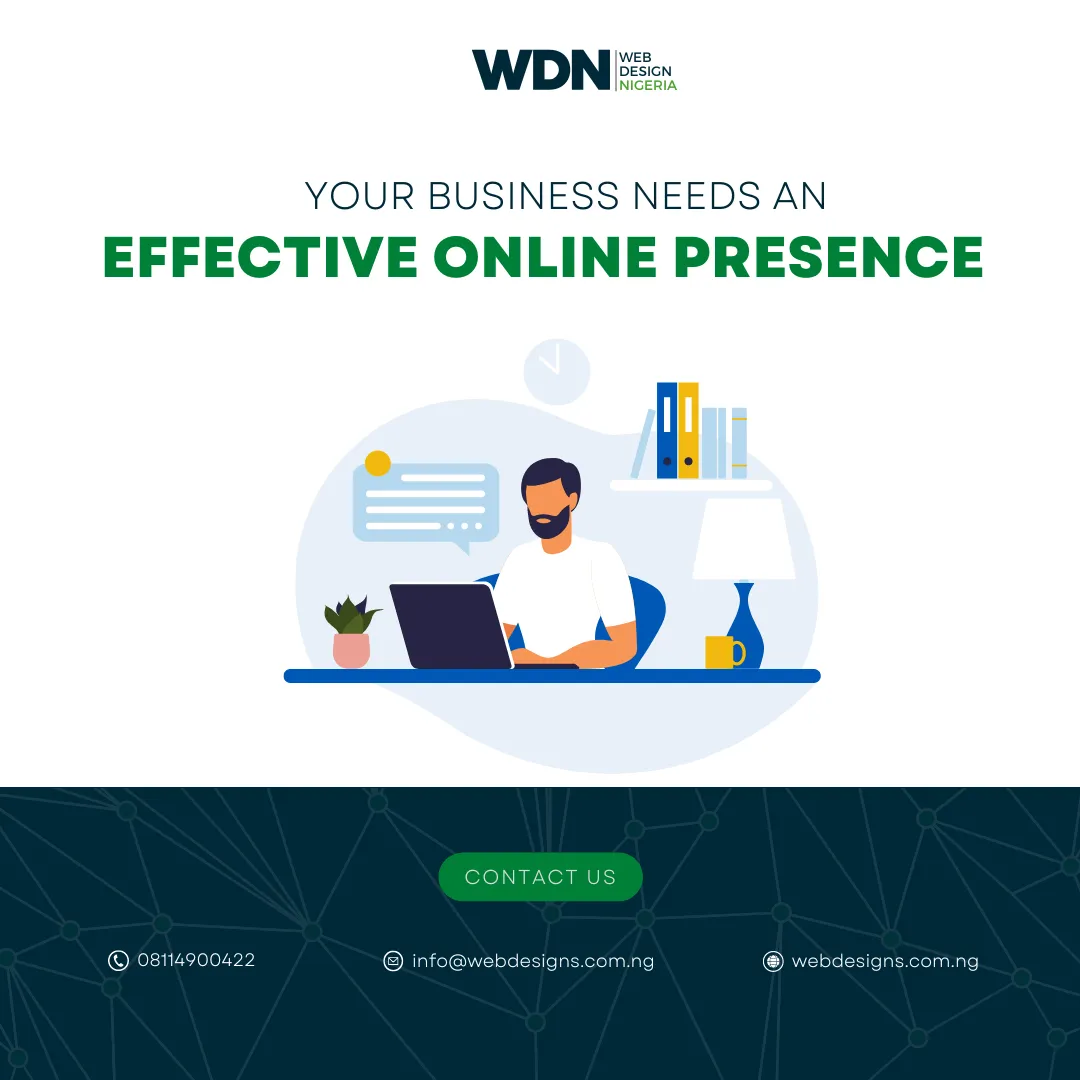 Overall, hiring a professional web designer can provide many benefits for your small business and can help ensure that your website is effective and successful.
If you are tired of stale and outdated websites and need a revamp or need to build a functional website for your business?
At Web Design Nigeria, we specialize in creating modern and visually appealing websites that are sure to grab the attention of potential customers. With a focus on user experience and search engine optimization, our team of expert designers will work with you to create a website that accurately represents your brand and effectively promotes your business. Let us help you take your online presence to the next level. Call us today at 08114900422 or Email us.