What is Content marketing?
Content marketing is a strategic marketing approach focused on creating and distributing valuable, relevant, and consistent content to attract and retain a clearly-defined audience — and, ultimately, to drive profitable customer action.
Why is content marketing important for small businesses in Nigeria?
Content marketing is important for small businesses in Nigeria because it helps them to connect with their target audience and create a relationship of trust.
Content marketing can be used to promote products and services, as well as to build brand awareness. It can also help small businesses to improve their search engine ranking and get more traffic to their website.
Impressive Statistics on Content Marketing
It's no secret that content marketing is effective – in fact, websites that have a blog attract 55% more traffic (Quick Sprout).
Blog titles containing 6-13 words generate the most traffic, according to HubSpot. This is likely because that range is long enough to be descriptive but short enough to be catchy and easy to remember. When it comes to content marketing, it's important to focus on creating titles that are both interesting and relevant to your target audience. Doing so will help you attract more readers, and ultimately generate more leads and conversions
According to Hubspot, marketers who blog are 13 times more likely to see a positive ROI from their efforts.
According to Orbit Media, the average blog post is 1269 words long.
Bloggers that create long-form content report seeing positive content marketing results (Orbit Media)
Steps to Do Effective Content marketing in Nigeria
#1. Identify your marketing goals
The first step to doing effective content marketing is to identify your goals. What are you hoping to achieve with your content? Are you looking to build brand awareness, generate leads, or drive sales? Once you know your main objectives, you can create content that is tailored to achieving those goals.
#2. Know your target Audience
Having a well-defined audience of the target as you set out on your content marketing journey is very important. Do you need to know what kind of people you will be creating content for? What kinds of things are they interested in? Understanding your target market will help you create more relevant and engaging content. In order to do this, you can use demographic data analysis such as age, gender, interest, location or residence, income, occupation, etc. to determine.
#3. Find out What your competitors are doing right
Find out what your competitors are up to. This can be done by subscribing to their blog or email newsletters, following them on social media, and reading their website content.
Identify the topics they're writing about and the keywords they're targeting. Create similar content, but make sure it's original and provides more value than your competitor's content.
Promote your content using social media, email marketing, paid to advertise, and other marketing channels.
#4. Effective keyword research
Keyword research is the process of identifying and targeting keywords and key phrases that are relevant to your business, product, or service. It involves analyzing what people are searching for online and coming up with content ideas that align with those terms.
When done correctly, keyword research can help you create high-quality content that attracts more visitors to your website and helps you rank higher in search engine results pages (SERPs). Here are a few steps to get started:
1. Identify your target audience.
2. Conduct keyword research.
3. Brainstorm content ideas.
4. Write high-quality content optimized for your target keywords."
There are a number of great free keyword research tools available, including Google AdWords Keyword Planner, H-supertools, Ubbersuggest, The Hoth Keyword Planner, some advanced tools to use are SEMrush and Ahref which are paid tools.
Each has its own strengths and weaknesses, so it's important to choose the one that best fits your needs.
#5. Create a Content Strategy
To do content marketing effectively, you first need to develop a content strategy. This involves figuring out who your target audience is, what kinds of content they're interested in, and how you can reach them. You also need to come up with a content calendar that outlines when you'll be creating new content and how often you'll be publishing it.
Once you have a strategy in place, the next step is to create high-quality content that will appeal to your target audience.
This can include blog posts, articles, infographics, videos, or anything else that's relevant to your niche. You also need to make sure your website is optimized for SEO so that your content can be found by potential customers online.
#6. Create a Content schedule
It's important to have a content calendar when you're doing content marketing. This way, you can plan out when you'll publish each piece of content, and make sure that everything is evenly spaced out. This will help you maintain a consistent publishing schedule, and ensures that your audience always has something new to look forward to.
#7. Start creating contents
Once you know your goals and audience, it's time to start creating useful, interesting content. This could include blog posts, infographics, eBooks, videos, or anything else that's relevant to your niche.
Your content should be high quality and offer value to your readers. It should also be optimized for SEO so that people can find it easily when they search for related keywords.
Use a voice that aligns with your target audience's tastes if you already have a good idea of who they are. Incorporate new information and focus on effective storytelling to convey your message. There is a lot of data available in the environment around you.
Do not steal others' ideas. focus on your own experiences and develop material that is exclusive to your company. The most essential thing to remember is to write fluently with simple words and clarity.
Make sure to add visuals (e.g., images or videos) to your posts, as they tend to get more engagement than text-only posts. You can also try using different types of content, such as quizzes or surveys, which can help you capture the attention of your audience.
#8. Promote your contents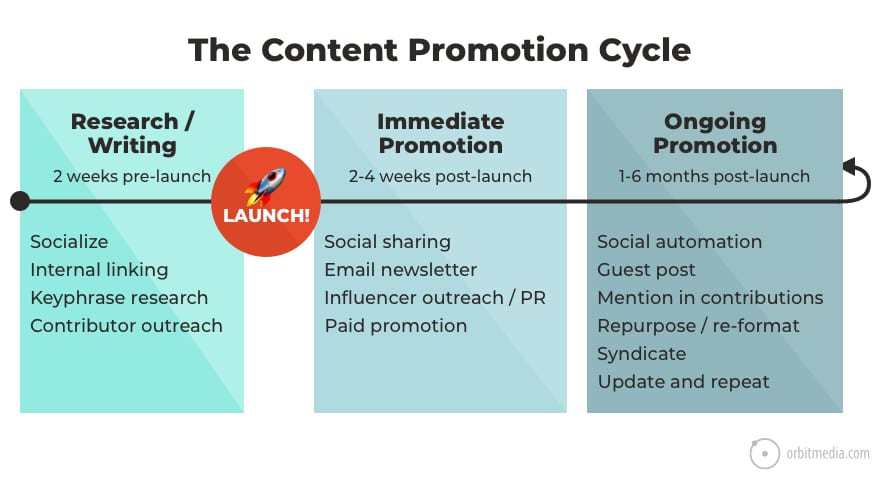 Promote your content on social media channels as soon as you publish it. You can use scheduling tools like Hootsuite to queue up posts ahead of time, or post manually when you have a few minutes.
And most importantly, be sure to engage with your followers and other users in the community. Reply to comments, ask questions, and start discussions. This will help increase the visibility of your content and help
#9. Be consistent
To do content marketing well, you need to post consistently and cover more topics related to your business. You can also use keywords or phrases as part of your posts in order to attract potential customers who are interested in those topics.
Additionally, it's important to make sure that your website is SEO-friendly so that potential customers can easily find your content online. Finally, always be sure to respond to comments and questions from readers so that you can build a community around your brand.
#10. Follow correct SEO Practices
The best way to do content marketing is to follow correct and widely accepted SEO practices. This means creating high-quality, keyword-rich content that is relevant to your audience and publishing it on a regular basis. You also want to avoid black SEO methods that can ruin your marketing efforts.
BONUS TIP: Grow a list
It is important to build a lead generation list in order to grow your business. By collecting the contact information of potential customers, you can keep them updated on your latest products or services, and even offer them exclusive deals and discounts.
There are a number of ways to collect leads, but the most common methods are through email sign-ups and opt-ins, or by gathering people's contact information through forms on your website.
Whatever method you choose, make sure to be clear about what your potential customers will receive in return for their contact information. This could be regular email updates, access to special deals or discounts, or even an invitation to join your VIP customer group.
Conclusion
Nigeria is one of the most populous countries in Africa, and its digital landscape is rapidly growing. This means there are plenty of opportunities for content marketers to reach a large audience with their message.
However, there are also some unique challenges that come with marketing in Nigeria. In this post, we've explored how to do content marketing in Nigeria and given you a few tips to get started. We hope you find them useful.
Need Marketing-related Support?
Web Design Nigeria is a full digital marketing agency in Lagos Nigeria. We are specialists in web design, app development, content creation, and social media management
Our team of qualified professionals has been working passionately to provide excellent services over the years. Our goal is to help you achieve your business goals by providing the best quality service at an affordable price.
Call/Chat us on +23480114900422 or Email Us.