It is visibly evident that more companies, individuals, and organisations are increasingly finding their feet in the digital space to hone their online visibility and enhance their business growth.
In a bid to leverage the immense benefits of the internet on their respective development journey, there is an increased awareness tending towards developing more virtual branches and tapping fully into explorative digital marketing in the quest to jostle new customers and clients.
There is increased awareness in the aspect of business website creation; more small business owners are creating their own websites, setting up their social media pages, and tapping into advanced aspects of digital marketing such as running PPC and SEO campaigns.
Unlike a decade ago when websites were ordinary extensions of physical brands and did not play a key role in the development of the business, the reverse is now the case with everything going digital and websites becoming a central and key digital marketing tool.
Web hosting companies (be they local or international) are playing a key role in what can be called a mass digital shift from mainly traditional marketing to digital marketing.
Our goal in this piece is to take a closer look at one of these numerous hosting providers in Nigeria; Truehost.
Truehost: Quick Overview
Truehost is one of the leading providers of repute offering varying web hosting solutions to hundreds of thousands of clients in 5 continents of the world including Africa and America.
Their presence in Nigeria has increasingly been felt in the past years, seeing how the company has grown fast and posits itself as one of the best-performing website hosting companies, not only in Nigeria but across Africa.
Are they reaching too far, or are they well within their pockets to make ambitious claims such as that?
To answer these questions, we take you through the ensuing sections, as we touch on the key features, ease of use, security, speed and scalability, pricing, customer support, other services offered, and all other things you need to know about Truehost.
Key Features of Truehost
1. Website Builder
With no coding skills or programming degrees needed, you can own your own website within minutes using the Truehost website builder called Olitt. With a few clicks and a single purchase, Truehost will hook you with a responsive website built to your taste.
2. WordPress Friendly
Want to host your WordPress site on a server that is fully optimized for that purpose? Truehost prides itself exactly on that. Truehost integrates a one-click installer, hand with several other tools and plugins that help make websites live in Nigeria within seconds.
3. Application Security
Truehost is built and run by world-class software engineers who are aware of the need for a very secure digi-scape, the company provides puts in place tight security measures to ward off malicious attacks.
4. Backup Scheduling
With Truehost, users can schedule their website backup processes for certain hours even if they would be unavailable within those hours.
Ease of Use
Truehost recognizes the need for user-friendly software, hence its website management tools and C Panel (control panel) is designed to be easily navigable with little to no difficulty.
All necessary tabs have been integrated into your Truehost dashboard making every feature to be within arm's reach.
Noted earlier is also Truehost's one-click WordPress installer that makes the company one of the best domain registrars and web hosting providers in Nigeria.
Security
Truehost has tight security measures put in place to ensure the safety of its customer's assets.
Some of these security measures include a defensive firewall, SSL certificates, and periodic backup actions that help to retain assets should the system be breached.
Speed and Scalability
Oftentimes, there have been instances of web hosting companies prioritizing website speed thereby sacrificing some other aspects such as scalability.
Truehost manages to strike a balance between these two important capabilities. It offers users web hosting that is not only powerful but also fast.
Truehost is capable of scaling all kinds of websites, from blogs to landing pages and e-commerce stores. Also, knowing fully well that website speed is one of the important factors to ranking on Google, Truehost offers its customers hosting plans that allow their webpages to load in under 3 seconds.
Other Products Offered
Aside the conventional web hosting which the company is centered around, Truehost offers several other essential internet services. These include:
Single Domain SSL: Sometimes called Domain Validated SSL certificate or Standard SSL certificate, the Single Domain SSL is a digital security certificate that is ideally used to secure basic websites like portfolios and websites for small businesses. This SSL isn't valid for more than one domain or subdomain.
Multi Domain SSL: With a multiple domain SSL, you get to secure more than one website with just a single security certificate. This is ideal for big businesses, corporate organizations, or conglomerates who run multiple websites and need a single SSL certificate to secure all their websites, thereby simplifying the process. It is also known as the Unified Communications Certificate (UCC).
Server Add-ons: These are other special tools that can be added to the web hosting package. Some of them in life life-dedicated IP addresses, load balancers, domain registration, CDN (content delivery network), etc.
Wildcard SSL: This type of security certificate allows users to secure a domain and its subdomains. It is perfect for websites with multiple subdomains.
Reseller APIs: Truehost is also a provider of APIs that are designed specially for resellers. These application programming interfaces (APIs) allow the resellers to integrate and deploy Truehost's hosting resources to their own customers.
Pricing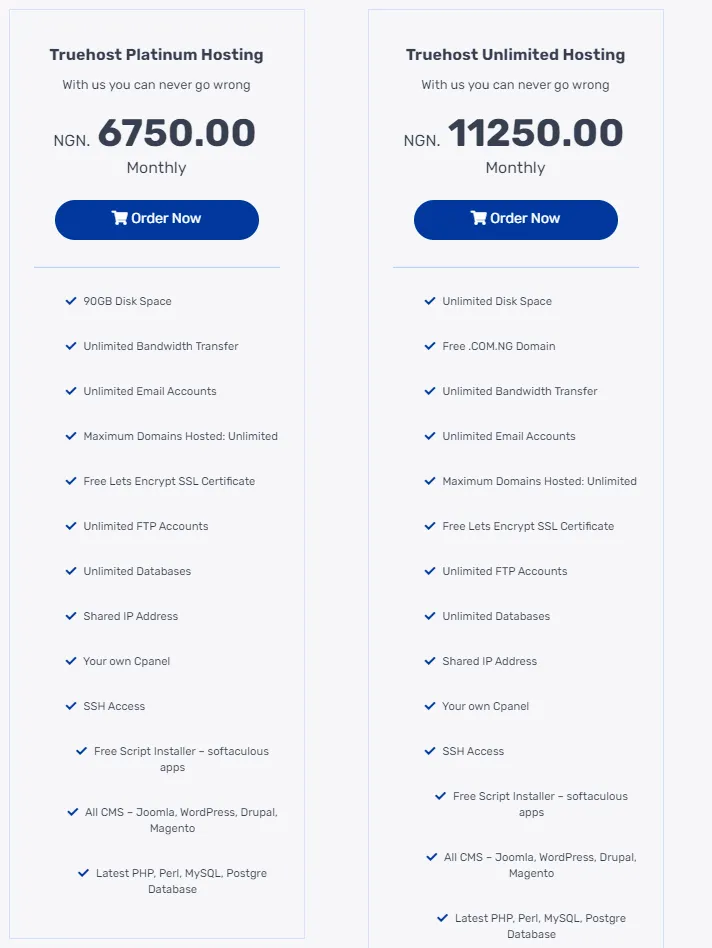 Truehost truly has very market-competitive prices and can pass to be one of the most affordable hosting services in Nigeria. Below is a table of some of their notable plans:
| | |
| --- | --- |
| SERVICES | OFFERS (In Naira) |
| Web Hosting | 750-1800-6750-12500 P/M |
| Cpanel/Web Host Manager | 9000-15,000-16,000-21,000 P/M |
| Multi-Domain SSL | 12,000-17,920-104,960 P/A |
| Website Builder | 23,900 – 63,900 |
| Reseller API | Free |
| Business Email | 1500-5000-10000-50,000-100,000-150,000 P/M |
*P/M – Per Month
 P/A  – Per Annum
 Customer Support
The customer support system that Truehost put in place to handle clientele relations is one of the best in Nigeria. The response times of Truehost's customer support team are commendable. Customers can reach support 24 hours a day, all days of the week through tickets (in-app or via email), phone calls, email, etc.
Who Can Use Truehost?
Absolutely anybody that needs to use a web hosting service. Truehost's customer base is cut across all spheres irrespective of objectives and drive.
The company targets both large-scale commercial enterprises and SMEs in Nigeria, individuals and social organizations are also not left out.
The company's services are tailored to satisfy every one of their customers' hosting needs.
Why Should You Host Your Domain on Truehost?
First and foremost, Truehost is a NiRA-accredited domain registrar.
It is an indigenous web hosting company in Nigeria with a physical office in Ibadan, Oyo state, you can also show up at your wish, unlike foreign web hosting companies who don't have a branch in Nigeria.
Truehost has a 30-day money-back policy. You can request a refund of your money within 30 days of making payment should you be dissatisfied with their services.
They have payment plans for all pocket sizes, you have little to no reason not to host that website today.
Installing your WordPress website via Truehost makes the site even 10 times faster as Truehost servers are efficiently optimized for WordPress.
They have super-responsive customer support and ticketing systems in place.
Why Should You Not?
Oftentimes when their customer support is unavailable, customers are usually directed to a chat bot on WhatsApp or on their website, which tends to be unresponsive to detail
There have been reports from disgruntled customers who claim that their accounts got terminated without a forewarning, which may be due to DMCA issues.
Truehost sometimes takes too much time to solve issues via its ticket
Bottom Line
Overall, Truehost is one of the finest web hosting companies in Nigeria to patronize for all your internet hosting-related needs, especially if your main concern is affordability.
This hosting provider is ideal for both newbies and big bodies and has mechanisms in place to make server-client interactions very seamless.
Also see a list of the best Truehost alternative web hosting providers.