Are you looking to start a profitable tech blog? You are very much on course. In this guide, I'll be showing the practical steps to start a tech blog that has the potential to earn you a decent income online.
Starting a blog is no easy task, especially for beginners. It takes time and effort to get your blog up and running. There are a lot of guiding principles that you need to consider before you start your blog – what niche you want to write about, what is the blog's purpose, who will be your target audience, how to approach content making, growth hacking steps for your blogging, and more.
No doubt! Blogging is an effective tool when it comes to expressing yourself and sharing your thoughts and professionalism with the world. I also think that it is important for people to have their own voice in the world and have their own platform where they can speak out.
Starting a blog can be difficult when you don't take the time to study and follow the right steps, but when done properly you can see how much in the end it has helped you grow as an individual.
One of the best ways to start an online business is to start a blog.
It's now easier than ever to start your own tech blog. In this article, you'll learn how to begin building a profitable tech blog from scratch.
10 Simple Steps to Start a Tech Blog
Understand your Niche
Name your tech blog
Choose a Blogging Platform
Get Domain Name and Hosting
Install WordPress and enable basic settings
Install a Good Theme For Your WordPress Blog
Install essential plugins for your blog
Create your first blog post
Tech blog monetization
Strive to get better every day.
1. Understand your Niche
A niche is a topic that can be further divided into categories. It is a subject that has enough content to sustain an entire blog.
Bloggers who have a niche are more likely to enjoy success as their blog becomes popular over time. It's important for bloggers to find their niche and stick with it.
The tech niche is a category in which people can find blogs on different topics related to technology.
A blog is a personal website that consists of content created by the person who owns and runs the blog, usually called – A blogger.
Blogs are typically updated regularly with recent news, views, opinions, and commentary about various topics related to technology.
Tech sub Niches
Developer tools, developer resources, community, tutorials
The Internet of Things
Web hosting and Web servers
Hardware engineering
Gadgets
Laptop reviews
Computer engineering and architecture
Software reviews
Smartphone reviews
Tech News
DIY technology
Programming, web development, and coding
Android App reviews…more
The tech industry is one of the most lucrative and competitive industries to be in as a blogger
Who should start a tech blog?
The most common question people ask is "Who should start a tech blog?" The answer is that everyone who has an interest or passion for technology should start their own blog.
They also provide a platform for you to establish yourself as an expert in your field, which can lead to opportunities such as speaking engagements, consulting gigs, and more.
2. Brainstorm a name for your tech blog
Choosing the name for your tech blog is a crucial step in starting up your business. It will determine how easy it will be for you to build an identity for your blog and also how much traffic you will get.
The first step in finding a name that is right for your blog is to brainstorm potential names with friends and family. We have made a comprehensive list of the best blog name generators to come up with a website name for your proposed tech blog.
You can also ask people what they think of when they hear the name of your blog or consider using an online search engine like Google to find potential names.
Now that you already have a niche in mind, coming up with a name for your tech blog should not be difficult.
If you notice, you've come to realize that most tech blogs often have tech in their names, for example, Lauratech.com and many other tech blogs.
This is the smart way to come up with a name for your blog business, it will help google and human readers quickly understand that your blog provides information and resources on tech-related issues and topics.
Ideally, your blog's name should:
Easy to pronounce
Short and Catchy
You can use a combination of your first name, and nickname with tech like the above example.
Go with .com and there are other great domain extensions too
What domain extension is best for a tech blog?
While there are many domain extensions for tech blogs, .com is the most widely used one is .com and .net domain extensions. It is a legacy extension that has been around since 1994 and it is easy to remember.
If you are considering starting a tech blog, .com would be your best option since it is well-known and has a lot of traffic. If you want to be more creative with your blog name, you could choose from other domain extensions like .io or .tech
The main idea is to get a ".com" domain that is straightforward and easy to remember.
3. Choose a Blogging Platform for your tech blog
Choosing a blogging platform is not as easy as it seems. There are many to choose from and you need to decide on the one that best suits your needs.
There are two main types of blogging platforms – free and paid. Free platforms are more limited in terms of features and monetization options, but they do not cost anything to use.
Paid platforms come with all the features you need, but they can be quite expensive for small businesses or individuals who don't have a lot of money to spend on their blogs.
The most popular free blogging platform is Blogger. It has been around for many years and it is the cheapest blogging platform today.
If you are serious about making money with your tech blog and want it to quickly get noticed by search engines, then WordPress is a much better option owing to its strong SEO capabilities.
WordPress is the most popular Content Management System powering 810 million websites and accounting for over 42% of total existing websites in the world.
The major area of strength for WordPress as a CMS solution is its flexibility and SEO readiness.
Search engines will find and crawl your website owing to reasons that WordPress opensource CMS is designed to help you optimize your website's content for search engines.
4. Purchase Hosting and Domain name for your blog
Now that you understand that you will get better results if you self-host your tech blog on a paid platform, here is how to get started. The two major elements required to build your blog are a domain name and web hosting.
Web hosting is a service that allows you to create your own website and run it online. It is an online storage server facility where your website sits online.
Every time someone types in your domain name, it sends a request to your web servers and your blog is served to them.
Also, searches made through search engines like Google needs to first communicate with your server to serve your blog to return relevant results and websites that can be clicked on.
Choosing good hosting is important for a blog to succeed. A blog needs to be reliable and stable enough so that people can trust it and come back every day to read it. We have previously reviewed the best web hosting for online businesses.
Bluehost
In light of this, we recommend you go with the best web hosting for optimal results. I recommend Bluehost to host your website.
Bluehost is one of the most popular hosting providers in the world. It offers a wide array of features and has a great user interface.
Bluehost gives you unlimited disk space, bandwidth, and email accounts, as well as 24/7 customer service. It also offers a free domain name with each hosting account purchase.
Bluehost is an affordable option for those who are just starting out or looking to save money on their website hosting costs.
Namecheap
Another hosting option is Namecheap, NC a domain name registrar and web hosting company.
It has been in business since 2000 and has grown to become one of the most trusted names in the industry. Namecheap offers fast, reliable, and pocket-friendly secure web hosting solutions for all kinds of websites.
Several expert bloggers use Namecheap because of its cost-effectiveness and quality delivery. it's a good choice for your tech website or blog.
But with Namecheap, you will need to buy a domain name separately while Bluehost gives you a free domain for life when you purchase and renew your hosting with them.
If you intend to host multiple websites on a budget, I recommend Interserver.
Steps to buying a hosting plan
Step 1. Visit the Web hosting provider homepage using these links: Bluehost | Namecheap
Step 2. Select your hosting plan
Step 3. Set up your domain name
Step 4. Key in your account information to register
Step 5. Pay to Create your account
5. Install WordPress
As noted earlier, WordPress is the most popular CMS for blogging, but it also has many other uses. For example, it can be used as a website-building platform, as well as an eCommerce platform.
It powers more than 75% of the top 80 million websites. It has a lot of things to offer such as easy installation, a simple interface, and plenty of plugins to choose from.
Now that you have purchased your hosting from either Bluehost or Namecheap. It's time to create your blog.
Your hosting provider will send your server login details to your email. You need that to install your blog.
You can follow these simplified guides to install your blog:
6. Install themes: BEST WordPress Themes for Tech bloggers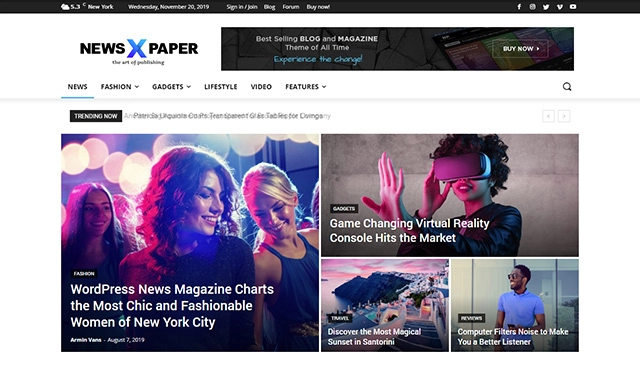 The WordPress theme market is also huge with thousands of themes available for purchase. Before picking a WordPress theme for your tech blog, make sure the theme is:
Cleanly coded
Fast-loading web pages
Responsive and compatible with multiple devices
Navigable for a great user experience
Easy to install and customize
Elegant and modern design for a good first impression
This makes it easy for you to find the perfect theme for your blog. below are some of the best WordPress themes for your tech blog:
Maktub
Avada
Barta Magazine
Newspaper
Jnews
Uncode
Squaretype
Salient
Soledad
Newsmag
Jannah
7. Install Essential Plugins
Plugins are a way to customize your WordPress website and make it unique. There are many different types of plugins available for you to choose from and they can be used for various purposes such as creating content, building websites, managing social media accounts, performance benchmarking, etc.
Plugins can also help you with SEO by making sure that the keywords you want are being used on your website. Some plugins I recommend you install include:
Jetpack
Google Site Kit for analytics, search console, and Adsense monetization
Litespeed Cache
Yoast SEO
Akismet
Contact form
There are over 55,000 plugins that serve various functions in the WordPress.org repository, if you need more plugins you may have to install more depending on the feature you're trying to adapt to your blog.
However, you need to mind the fact that too many plugins will enhance the speed and performance of your website. So it's very important to keep a few plugins and make sure to remove ones that are not in use.
8. Create your first blog post
If you have comes this far it means that you have already acquired a domain name and hosting and install WordPress on your hosting and now your blog is up and ready to go live. Well! Congratulations.
This is where the real game is. If you want your blog to gain quick traction and attract the audience you intend to attract, you need to be able to write great content.
Your keyword research precedes, creating content, you need to first find profitable keywords that you can rank for, next is to start putting together valuable content that will keep your audience coming back for more on your blog.
To achieve this, your writing style needs to be creative, unique, and resourceful.
There are two methods to publish content on WordPress, the first is to publish them as posts, and the second is to publish them as pages.
Your pages are information that doesn't need to change that often for example your contact us page, about me page, Privacy policy, earnings disclaimer page, and so on.
Your blog or post page is where you publish your blogs from time to time.
To be successful as a blogger, you need to:
Create posts with unique SEO titles and SEO description tags
Understand User intent, Semantic keywords, and general post optimization
Avoid writing thin contents
Write well-researched content with a reasonable length
9. Monetizing your tech blog
Tech blogs have been around for a long time. They are an effective way to build a brand and create content that is relevant to your audience. Build up a following with your blog, and you will be able to monetize it in the future.
1) Monetizing through advertising: The most common way of monetizing your blog is by using ads on the site. This is how most tech blogs make money, so if you want to monetize with ads, this is what you should do first. You can consider signing up with Adsense and other AdSense Alternatives.
2) Monetizing through affiliate marketing: If you want to go down the affiliate marketing route, this will require more work than just posting ads on your blog. You need to find relevant products or services that are relevant to your readers and promote them in posts or videos with links back to the merchant.
With the popularity of affiliate marketing, you'll mostly find blog owners using a plugin like WordPress' AffiliateWP to create banner ads and other ads that can be served through affiliate networks such as Impact, ShareASale, Clickbank, Amazon Associates, or CJ Affiliate by Conversant.
3) Monetizing by selling subscription-based products: This is probably one of the most common monetization models. A blog owner will design a product that they would like to sell, create a WordPress plugin or membership site, and offer it as a subscription-based service.
If the content of the blog is high quality and valuable enough to people, this could be a good option to rake in some good earnings off your tech blog.
4) Monetize By Selling digital products: There are a few ways to sell digital products on your blog. You can sell your own digital products such as ebooks, courses, and more.
Conclusion
Congratulations! Now that you have your tech blog up and running, understand that you need to continue to familiarize yourself with how to use WordPress, the steps to create great content, how to do keyword research, blog post optimization, and more.   If you have a comment, please feel free to use the comment section below.