It cannot be overemphasized that every business (large or small) needs a working website. For educational institutions as well, having a website is crucial, it is no longer an object of debate for citadels of learning ( schools educational institutions, universities, polytechnics, and academics) to either have a website or not.
Especially when they need to strategize on how to reach a better audience, switch up their credibility meter, and better inform their stakeholders.
Let's delve a little deeper into some obvious reasons why every educational institution and place of learning should have a proper website and the distinctive features a professional school website must have.
Why do Schools Need a Website?
Increased Visibility
Visibility is key to every entity. Every type of organization be it Non-profit or Profit needs a viable website to smooth-sail their visibility. We can all now see the rate of internet penetration due to evolvement in the world of technology and innovations.
The internet is fast becoming an important part of our lives and that has come to stay. One of the most reliable sources to conduct research and find information about any subject is the internet. They scour the internet to scoop information about everything including education, career, and academic-related information.
A website is an informational tool of convenience for prospective students and stakeholders in the education sector, they can find information about a school, the facilities offered by the school, the programs or courses available, profiles of the management, and more, through the school's website.
Also, people who are new to such academic institutions can get a handful of information about the institution as provided on the school's website.
Improved Communication
One of the many powerful use cases of a website is as a powerful tool for communicating, time and time again, it has been established that a website can be used by the school and stakeholders to communicate important information.
Some of the most important and popular pages on the school website that proves this point includes; Bulletin pages, The school's mission and vision pages, academic programs pages, extracurricular activities pages, upcoming events, announcements, and more.
Accessible Information
Schools and institutions of learning are all about helping their participant have access to information, an educational website must be able to achieve this singular goal of conveying information so as to make it possible for anyone who needs any important information about the schools to have the right amount of access to them.
Information such as the school's vision, history, mission, academic programs, admission requirements, faculties, school classrooms, laboratories, libraries, general ambiance, and other resources can be provided with extensive details on a school's website.
Credibility
Websites are often used for perceiving the credibility of organizations online, one of the many ways a school can uphold its reputation and credibility is by having a professional school website.
A properly designed website using a modern and professional approach can uphold the impression that the school is of a good standard, organized, and committed to providing quality education. Parents are looking for Instructors and academicians that they can trust the impartation of their kids and wards with. Visionary but new schools can often use their website to demonstrate their visions, missions, and passion for what they do.
Must-have Features of a professional school website
Not all School websites are great, which is why we have decided to create this aspect. What makes a great school website? This is a question many school proprietors and administrators don't seek to ask as they set out to get a webmaster for their school's website design.
Web design is a professional career, and there are guiding principles that need to be adhered to get the desired results and also sustain the ethos of the profession. Many school owners have lost their websites due to so many unprofessional web designers due to several reasons such as, informed domain and server expiration tenure, website hacked due to the use of cheap web design elements such as backdoor themes and templates, some have lost their website to selfish web developers who ceased their passwords as a way to keep them from getting a better handler, some lost contact with their web designer and therefore couldn't redeem their website until expiration and several other circumstances we've seen.
It's why we've painstakingly created this section so that every school owner out there can be properly informed on what makes a great school website.
User-Friendly Navigation
A website is said to be user-friendly when it is easy to navigate for website users and has menus that guide the user's journey while exploring the website.
It's understandable that all the pages of the website cannot be put on the navigation, however, the website should be structured in a way that anyone can find what they need on the website.
A search function should also be present for sitewide searches so people can explore the site to find information sitewide.
A consistent design and website layout will help site visitors easily understand how to navigate from one page to another and use the website to find what they need unassisted.
Mobile-Friendly Design
Mobile penetration is rapidly increasing, people spend more time on mobile than any other type of device. Therefore, a professional school website must be mobile-friendly.
In fact, the website must be able to adjust to all screen types and device screen sizes.
A modern and professionally designed website must look great on all devices, from PC, and TV to smartphones.
Responsive websites reduce bounce rates and increase engagement.
Timely Updates
A school's website should be constantly updated. The website should be constantly updated with fresh content, including updates, announcements, and events. This will provide reasons for people to want to come back to the website.
A website that is up to date with new information is perceived to be more value-driven, and passion-driven and can further establish the school's voice and reputation.
Multimedia Content
One of the goals of creating a website as mentioned above is to educate the site users.
Content such as infographics, videos, photos, and videos can be used to showcase the school from different angles and perspectives. Infographics are a great tool for learning in a more engaging way so also videos.
Dynamic content on a website will go a long way to give stakeholders an idea of what the institution has to offer.
For example, a video tour of the school's campus, sports, and excursion events can be a great way to give prospective students and parents a sense of what the school is like. An infographic about viruses and what students need to know will help students learn better about what viruses are and how they can better protect themselves from these viruses.
Online Forms
Forms are useful on a website, for one thing, to collect used leads and information about participants.
School websites can use forms in several innovative ways. We have admission forms, contact forms, and feedback forms, all these types of forms can be used as a much easier avenue for anyone to communicate or make enquires about the institution.
Online forms can also help the school to streamline its administrative processes, for example, using forms to accept enrollments for admission purposes is s much easier and cost-effective than using usual the traditional paper form method.
Social media integration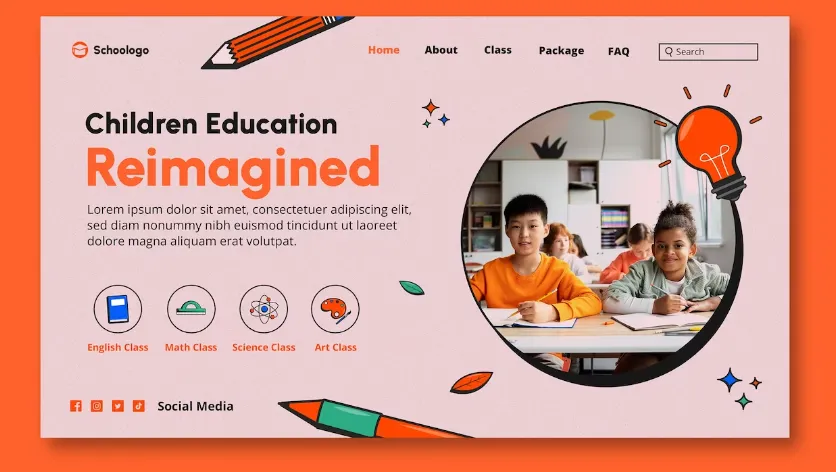 One of the top places on the internet where people hang out these days is social media. Social media is fast becoming a huge part of our lives as humans. To promote your School business, having a social media account is very important.
It's a great communication and marketing tool even for educational institutions.
A functional school website will integrate social media accounts of the institutions on the website so that users from the website can connect to the social media accounts of the school and follow their future activities, and vice versa they can from the social media accounts find their ways to the website.
Social media pages, such as Facebook, Twitter, and Instagram are useful for schools to connect with their stakeholders and prospects from time to time.
Secure and Reliable Hosting
Web hosting is where your website files are hosted and served to the browsers of your website visitors each time they visit the website.
This is one of the most tricky parts when it comes to building a small business website.
Educational websites will be at their best performance and give you the expected results in terms of awareness creation when it's built using a secure and reliable web hosting service.
There are numerous benefits you stand to get from good web hosting; first, the website is well protected from security threats, downtime, and attacks.
Quality web hosting service is also important for the performance of the website, there is a need for the website to serve web pages to visitors with decent speed this way the user experience can be sustained.
Imagine you're trying to visit or load a website and it keeps loading for minutes without showing any useful information, you will be so frustrated and decide to leave the website for a competitor's website.
So most importantly, you must avoid cheap and poor-performing web hosting.
Conclusion
In a nutshell, Websites are no doubt a valuable marketing and branding tool for educational institutions in Nigeria and we recommend every well-meaning places of learning to have a professional and elegantly-done website.
It will help to boost your business's visibility, help you communicate better with your audiences, and make a good first impression on your business.
---
Need a website for your School?
At Web Design Nigeria we prioritize website structure, design, user-friendliness, and effective positioning on search engines.
We create pocket-friendly websites with all the required features for your schools. We make sure it's engaging, informative, and effective in communicating your School's mission and values to your stakeholders.
Like other forward-thinking business owners, If you are on a mission to enhance your online presence and wish to take your business to the next level using cutting-edge online technologies, then we remain your most reliable online growth partner.
Contact us today on 08114900422 to create a modern and Imparting School website for your organization.