Usually, consumers tend to look up the internet when there is a need for a product/service before making a purchase.
As such, it is crucial for your business to be easily found online. When your business is well positioned on Search Engines, you will have increased traffic and attract more leads to your website, thus boosting your conversion rate.
Search Engine Optimization (SEO) companies help maximize your business's exposure online, allowing potential customers to find the information they need more easily through search engines such as Google and Bing. They are essential for businesses looking to grow their online presence.
While it is great to have someone in-house doing SEO for your company without any professional help, there will come a time when you will need a professional SEO company to help streamline the process. Yes, basic SEO can help generate some traction for your website, but you will need an expert to take it to the next level.
If you don't hire one, the organic growth of your website can stagnate, leaving room for your competitors to steal your leads and customers.
Why Should You Hire an SEO Company?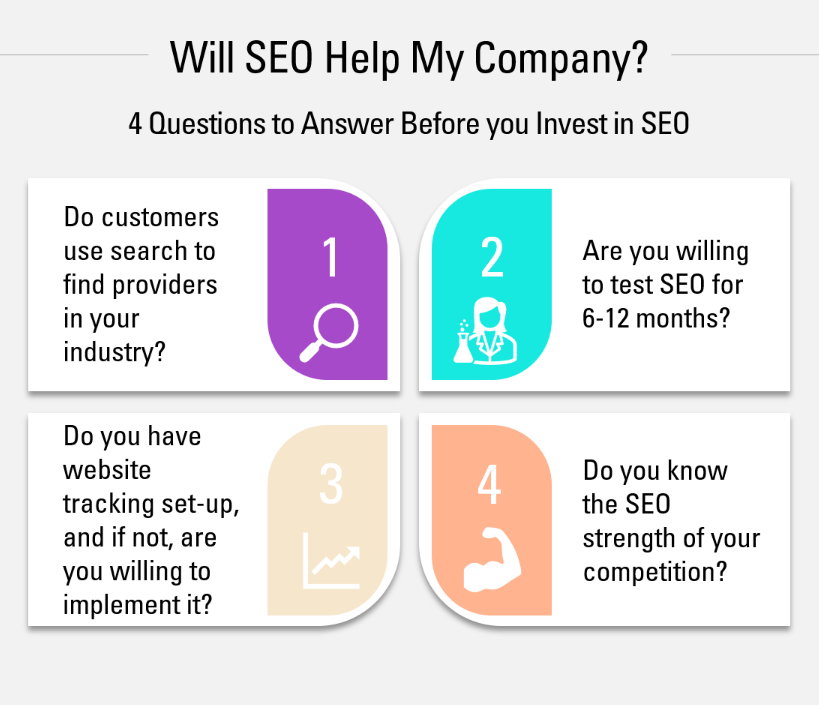 SEO is vital if you want to channel organic traffic, leads, and sales to your website. SEO can help promote your brand effectively, no matter the industry you are in or the size of your company. The benefits of SEO are numerous. Here are a few reasons why you should consider working with an SEO company:
They can help your website rank higher in search engine results through their expertise in search engine optimization.
They can help your business develop an effective SEO strategy to meet your long-term goals.
They can provide customized services based on your company's size that suits your budget.
They can help track the progress of your SEO campaign and make adjustments where necessary.
They are always current on the latest SEO trends and can implement the latest strategies to boost your website's rank.
While all these are promising, it's important not to get carried away, as thousands of SEO agencies are out there. Each SEO agency is great at something; therefore, your quest shouldn't just be to find the right SEO agency but the one that's right for your business.
Hiring an SEO agency can be likened to boarding an airplane. Before you start flying, you must ensure you are in the right place to take you to your desired destination.
What are the main types of SEO?
Content Marketing (On-Page)
Link Building (off-Page)
Local SEO and;
E-commerce SEO 
Technical SEO
It is crucial to understand your business needs and desired outcomes before choosing an SEO expert.
If you are planning to engage the service of an SEO agency, here are some characteristics that great SEO companies possess. They will help you avoid falling for bad SEO agencies.
Characteristics of Best SEO Companies
You will find these traits in all the best SEO companies and can use them to shortlist the companies you want to work with.
A well-defined Strategy to Implement SEO techniques
An SEO company that has garnered experience by working with numerous clients outlines its work process to give potential customers a glimpse of how they achieve their results. This is a common characteristic in any SEO agency with a proven record of proven results.
A Diverse Team of Experts
Experienced SEO agencies are always proud to make their team public. A lot goes into the effective execution of SEO strategies, so a vital characteristic to look out for is the team that puts in all the work. From leadership to strategy formulation, to account management and execution specialists, ask for the team you will work with to achieve your goals.
An Impressive Clientele
Great SEO companies work closely with their clients, as effective SEO principles are hard to manage and require a lot of time and commitment. Displaying their client portfolio should therefore be a common characteristic. It not only shows their level of experience but also serves as a benchmark to help your decision-making.
Valid Customer Testimonials
When choosing an SEO company, scan their website for previous customer reviews about them. Reputable SEO agencies would proudly display what satisfied customers have to say about their service.
Current on Latest SEO & Web design Trends
Great SEO companies are always on their toes with the latest SEO trends, especially how it affects traffic, ranking, and sales. Before hiring, check if they are up-to-date and if they share recent SEO trends via blogs, research papers, and social media to help you maintain pace with the market.
A Clear Company Culture
You wouldn't want to work with a company whose values do not match yours. Top SEO companies have the characteristic of displaying their company's values, so potential customers can decide whether or not to hire them.
Now that we've looked at the characteristics most of the best SEO companies have, there might still be a few dozen on your list. How, then, can you single this down? We have compiled seven practical steps for you below.
How to Choose an SEO Company
With so many options available, it can be challenging to narrow down your list when looking for a reliable SEO company that can help you grow your business. By following the tips below, you can be sure to invest your money in an agency that would bring real results.
1. Do Your Research
It's important to do your research. Compare different SEO companies, and look out for reviews from past clients.
2. Ask for Referrals
It could be helpful to ask for referrals from other businesses that have used SEO services. You can also ask for references from past clients to get a feel of the working experience with the agency. Referrals can go a long way in helping you save time and money by steering you away from agencies that are not suitable for your needs.
2. Set Clear Goals
It's important you set clear goals for what you want to achieve and ensure the company understands them and is willing to help you achieve these goals. They should provide a detailed work process and be clear on their rates and services. They should also be happy to attend to your queries and concerns.
3. Decide Your Budget Beforehand
You needn't worry if you are on a limited budget, as there are ways to get hire an SEO expert without breaking the bank. Signing up for free services like Google Analytics and Google Console is a great way to start. You can also set up meetings with different agencies to show you want they do and how much it would cost.
4. Ensure the SEO Agency Has a Satisfactory Track Record of Results
Be sure to request case studies from the company or examples of work they have done in the past to get an idea of what they can achieve.
5. Get a Written Contract
A detailed contract on what services would be provided, how much they would cost, and when payments are due would ensure that you are both on the same page. It would also prevent any surprises along the road and commit the SEO agency to specific goals and targets.
6. Communicate Regularly
After all, that's been said and done, ensure you communicate regularly with the company that you hired. This way, you can ensure that your goals are being met, the results are worthwhile, and you are getting the most out of your investment.
BEST SEO Agency In Nigeria
At Web Design Nigeria, we help you grow your business through the power of digital marketing. It's our mission to bring you the best results and surpass your expectations.
With over 10 years of experience, we are one of the most reputable SEO agencies in Lagos. we've helped hundreds of businesses rank higher on Google and drive traffic to their websites. With over 100,000 collective hours of experience in SEO and digital marketing, we can provide you with a tailored approach that will not only drive traffic to your site but will also help you increase sales.
We offer a wide range of services tailored to your needs, such as search engine optimization, social media management, and more!