Ecommerce Web development Agency
Your online store is one of the most important touchpoints of your business. It helps to broaden your reach and connects you with more prospective buyers and clients. It's capable of helping you land a great first impression. Hence, it's important to hire a proficient e-commerce web development agency to create an effective online shop for your business. Starting a business requires some level of investment and commitment and you can't afford to settle for less when it comes to creating an effective online presence for your business.
Mobile Friendly & Responsive Ecommerce Website
At Web Design Nigeria, We create eCommerce websites that solely captures your brand essence, tells the right stories, and converts web visitors to repeat buyers. In the course of developing your website, we integrate mobile-ready features such as responsiveness and multiple browser compatibility. The average conversion rate for an online shopping website that is mobile-ready is 3.5 times higher than on a desktop site, hence the need to have an online shopping site that's optimized for mobile devices, so that you're not missing out on potential customers and sales.
Mobile internet penetration keeps getting better all across the globe as we experienced more advancement in the tech world.  In fact, it's predicted that online shopping will be done exclusively on mobile by 2025. Our team of experts will help you develop a mobile-friendly online shop in just four weeks. This includes everything from the shopping cart and checkout to payment integration, search engine optimization, ERP integration, and conversion optimization.
Build a Conversion-ready Online Shop in Nigeria
We provide a feature-rich ecommerce website for brands who are looking to get into explore the booming ecommerce industry to promote and sell their products and services. We've helped over 50 brands nationwide achieve success with their own online stores, and we can help you too.
We're a new age development agency for conversion-ready ecommerce stores. Our team of experienced designers and developers is willing to work with you to make your ecommerce storefront come to life. We adeptly use the industry's latest ecommerce technologies and strategies to design, develop, deploy, and optimize every aspect of your online shop.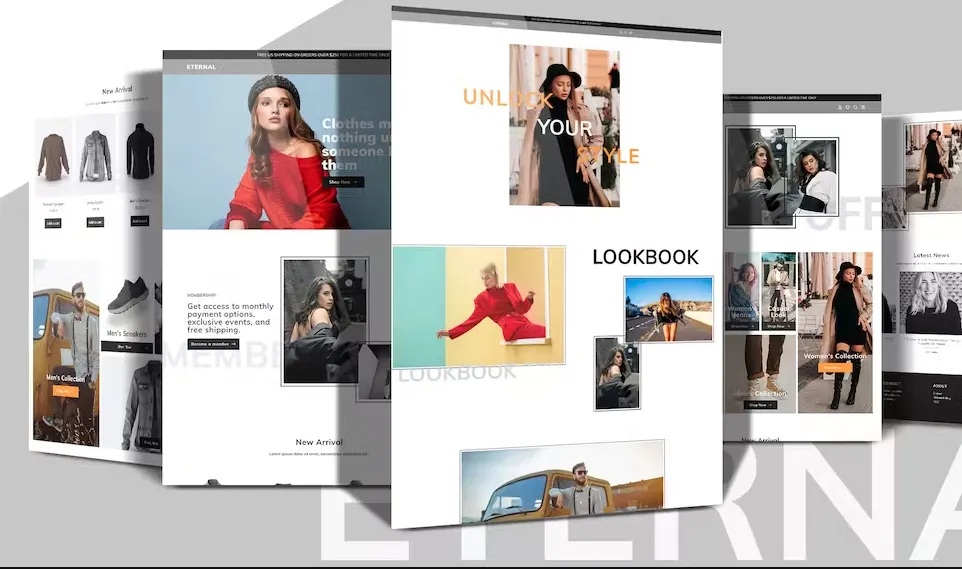 3 Points-Ecommerce Web Development Checklist
Developing your e-commerce website must be astutely prepared for and planned. This is the only way to ascertain that you end up developing a website that can capably drive immense targeted traffic that translates to revenue for your business. In order to help you achieve this, we recommend having at least a comprehensive 3-point checklist that factors in the below:
Setting Priority for User Experience
 In all that your web developer does, it is important to not drift away from crafting an e-commerce platform that's designed to make the life of your customers easy and their user journey on the website smooth.
A heavy-coded or bloated design can lead to clutter and slow loading page experience undermining the User experience (UX) and the possibility of converting visitors into paying customers. A properly designed ecommerce website should essentially communicate value, projecting the products and services in good light of customer needs. Also needful too are simple and intuitive navigation system to guide the users as they explore the website to find their products or choices.  Overall, blending aesthetics with functionality and performance without sacrificing any for the other will help you land an ecommerce website with a smooth and positive user experience, thus leading to more valuable leads and sales conversions for your business.
Planning for SEO from day 1
From inception, have a plan for Web positioning in Place. Search Engine Optimization (SEO) are set of positioning principles and strategies put in place to improve your website's visibility on search engine results pages. Make sure the best SEO practices are followed from day one during ecommerce development by ensuring things like a cleanly coded website, uncluttered site structure, and layout, simplified navigation system,  your website is mobile-friendly, using SEO-friendly URLs, optimizing money pages for speedy loading, and moderately incorporating relevant keywords. All this will help ensure that your website is on track to start getting the best SEO results when you eventually launch.
What use is an ecommerce website with a nice design but hidden from search from potential customers who are looking for your products and services?
Implementing Proven-Digital Marketing Strategies
The importance of having a strong digital marketing strategy in place should not be undermined when developing an ecommerce business for long-term success.
After launching your ecommerce website, what next?
There is more to be done than just launching, Now! that your ecommerce website is live it is time to put into consideration the best ways to leverage some of the best proven digital marketing techniques such as Email marketing, pay-per-click (PPC) advertising on platforms like Google Ads, Facebook, Instagram, Twitter/X, then content marketing, and social media marketing. All these strategies when put together will help to supercharge your ecommerce business online visibility, attract more targeted prospective customers, and enable you to nurture them to become repeated and loyal customers or clients.
Payment & ERP Integrations
Today, a lot of eCommerce companies are struggling to grow their business as they're stuck with outdated payment gateways. They're getting frustrated as their sales tanked as a result of insufficient cash flow into the business.
Their customers are not properly interfaced with a functional and effective online payment solution. To make things worse, they've wasted hours on integrating with one of the outdated payment gateways and now they need to start the process all over again with a new one. We offer seamless payment gateway solutions for eCommerce businesses in Nigeria and Africa. We work with the most secure and reliable payment gateways in Nigeria including Paystack, Flutterwave, and other ERP solutions providers.
How we craft dazzling Ecommerce Websites
Let Us Build your dream ecommerce website
There's a need to Collaborating with a sound ecommerce web development and digital marketing company like Web Design Nigeria to achieve your business Goals.
We can confidently help you to boost your marketing efforts and make them show forth in your sales. We can adeptly offer support in aspects of development, Payment & ERP integrations,  content strategy, User Experience, performance tracking for PPC campaigns, and charting a course for the continued growth and success of your ecommerce business.
If you are ready to get started developing your ecommerce website? Web Design Nigeria is a leading ecommerce web development company in Nigeria that supports businesses at all levels to achieve their short and long-term results.
Wondering how much our ecommerce web development could cost, you can see this clarity guide on Ecommerce Web Development cost in Nigeria or reach to us with your project brief using the below contact details. We respond in good time!
More services we can help you with
Let's Build you a perfect business website. We create professional brand-centric and fully-functional websites.
Ecommerce Development Services
Intuitive Storefront Maintenance and Management Solution