Designing a website is a complex process, but the best wireframe tools can help streamline that process by helping you better craft your ideas from the start of your web design process.
Wireframe tools are designed to provide designers with an interface tool that they can use to create the structure of their site without needing to do any coding.
There are many different wireframe templates and software programs to choose from, so find which one works best for you and your team.
After creating a wireframe, you can use it as a guide to further refine the design, or begin building mock-ups and prototypes of your website.
Wireframing Vs. Prototyping
Wireframe
A wireframe is a simple representation of a digital product or website. Think of it as a skeleton where you decide what elements to include the position on the page and how they will interact with each other.
There are low-fidelity wireframes, which means they're very simple, minimal, and most important. They are static and don't include any interactions or animations.
High-fidelity wireframes are usually more complex and require using a specific tool, but not yet clickable or interactive.
Once the wireframing phase is completed, the next is to move on to the prototyping phase.
Prototype
A prototype is a simulation of the final product, but it doesn't need to be high-fidelity or pixel-perfect.
The main purpose of building prototypes is to test with users whether or not the interface and functionality of the product work or can be improved.
There are several tools and techniques you can use to build wireframes and prototypes, but so many times the client might want to pick their own tool, which is why you can't afford to stick to only one prototyping tool.
You must train yourself with the finest available tools like some of the ones discussed in this piece, that way you will not be limiting your capabilities to just one design tool, Whatever the nature of the client you're working with, it is important to be flexible.
BEST Wireframing and Prototyping tools
Abode XD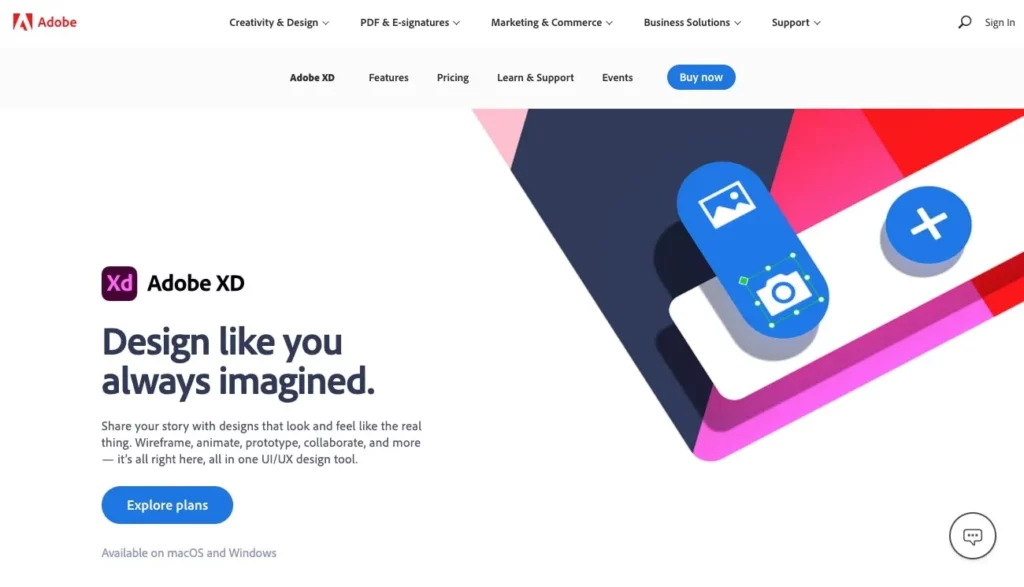 Abode XD is a vector-based design software by Adobe, which is integrated seamlessly with other adobe products such as Illustrator, Photoshop, Adobe Stock, and Adobe Fonts. It is one of the best wireframe tools for designers and it's the most powerful prototyping tool that you will come across in the market today.
Wireframing is the best way to create a blueprint of a design. The Abode XD is a wireframe tool that simplifies the process and makes it easy for designers to create wireframes from scratch.
It is an all-in-one solution for designers to create interactive prototypes with ease. It also has a drag-and-drop interface to make the designing process easier.
It offers features like site maps, flowcharts, and storyboards. It also has an inbuilt UI kit for designers to use when creating their wireframes. It has an intuitive interface and offers templates for different types of projects such as web, mobile or software applications.
XD has been specially created for designing websites and apps work. We use XD for designing landing pages for the marketing website as we can easily link assets from the component library and use them in our projects.
We found that it works pretty well for collecting feedback from stakeholders or other team members. If you're familiar with Photoshop, you shouldn't have a problem using Adobe XD as they all share a similar interface. Plus Adobe has recently updated XD with incredibly useful features.
Abode XD has a repeat grid option that automatically snaps grids together for you. This is great for making sure your designs are pixel-perfect and have uniform spacing.
Auto-animation lets you animate parts of your design by simply drawing a line from one point to another in your sketch. This is helpful if you want to show how something moves or changes over time in an interface. Voice triggers let you add voice commands to any object in your wireframe so that they can be activated with just the sound of your voice.
Finally, Abode XD has all the tools necessary for collaboration with other designers and clients – like commenting, sharing and exporting projects as PDFs or videos – so it's easy for everyone involved to work together on the same project at once!
The only downside of this software is that it requires Adobe paid subscription to access all of its functionality. Available for both Microsoft Windows and macOS.
Figma is a powerful cloud-based design software. It is simple and straightforward which makes it a great choice for designers. Figma offers three free projects, but now has paid plans as well. The plans are very affordable for the quality of the product.
An intuitive interface design tool that runs on your window browser. That means your files are all saved online and you don't have to worry about losing them.
Figma is a design tool that is perfect for wireframes, while it doesn't have any built-in UI components you can definitely upload your own pre-designed kit or use the massive design resource library to find what you need.
Figma has a large and active community of designers who are always posting new resources, and this makes it an excellent place to find quality templates for wireframes.
You can effortlessly create artboards, shapes, text, and more. It is a single-panel design organization system that's perfect for wireframing.
Figma is one of the best wireframe tools for designers because it offers an easy-to-use interface while still providing the features needed in order to create high-quality wireframes. Figma also has collaborative features that allow you to work with your team on the same project at the same time.
You need don't need to keep sending emails to clients asking them to check the latest update, simply share a link (preview, not actual file) with them so they can see what you're doing in real-time.
There are so many reasons why we recommend you use Figma, but the main ones are that it's web-based, it's free, and it comes with tons of super useful plugins and an app called Figma Mirror that allows you to see your design from your phone or tablet.
Miro
Miro is a  prototyping software that is used to create wireframes, product roadmaps, design diagram complex architecture, and brainstorm marketing strategies, It can be used to build interactive prototypes with user feedback in real-time.
Miro provides a variety of tools that are helpful for designers who are working on their projects. It has an intuitive interface which makes it easier for designers to work on their projects without any prior knowledge of coding or programming.
Miro is not just limited to wireframing and prototyping, it also has a lot of other features that can help designers in different ways. Such as creating interactive presentations, holding ideation sessions, and running design thinking workshops.
With Miro, you are ready to tap into a wealth of limitless and Infinite Canvas that provides designers with a variety of pre-made layouts and tools for making diagrams including wireframes, roadmaps, user stories, and customer journeys. Further, UML diagramming templates enhance the wireframe design process for designers generally.
This nifty tool lets you plot key workflows, run engaging design workshops, create roadmaps, research & design. It supports mind mapping as well as other activities such as brainstorming and organizing hybrid scrum events.
This tool is used by enterprises to create secure enterprise-grade applications in minutes while making it easy for non-technical users to collaborate in real time. Miro is enterprise-grade security compliant and rated as the number 1 Visual Collaboration tool on G2 and comes packed with thousands of expert-built templates from its robust community- Miroverse.
Miro can be used by designers who would like to create low-fi wireframes. It features drag and drop interface, as well as basic drawing tools.
It has a simplified and clean user interface and it is easy to learn how to use it. The software also has a built-in library with templates, which can be used by the designer or they can start from scratch.
It also integrates well with other top tools such as Notion, Figma, Sketch, and XD. It's a collaborative design app that allows designers to share their ideas in real-time.
Lucidchart is a powerful cross-platform diagramming and data visualization software for businesses and individuals who need to create wireframes, flowcharts, and other diagrams. It has superb collaboration features that allow teams to work together on the same project at the same time.
Lucichart can be used across product and engineering teams for brainstorming and managing our projects. As a product designer, I use this tool to create user flows, user journeys, and web frames at the beginning of the design project to gain clarity around the whole project.
The intuitive drag-and-drop system helps designers to arrange elements properly for the web and mobile. It also has a full UI shape library with more than 2000 shapes including search boxes, site map icons, text editors, and more.
The library also includes templates for various types of charts and graphs so you can create professional-quality charts without having to start from scratch every time.
Users can easily create, share, and collaborate on diagrams in real-time. It offers a wide range of features including the ability to work with multiple people at once on the same document.
For designers new to wireframing, they can explore the large range of templates sized and styled for both mobile and desktop.
If you work with stakeholders, clients, or people who are not familiar with design tools using lucidchart makes it easier to facilitate remote collaborations share your process, and gather feedback all in one place.
Lucidchart also has a presentation mode and is fully compatible with Google Slides.
Sketch is a vector graphics editor that is designed to work with Mac OS X. Sketch has a simple and intuitive interface. It has all the features that one would need to create effective UIs and icon vectors.
Launched in 2010, It was designed from the ground up to help designers create effective UIs, icons, illustrations, and more.
The first thing you need to do, before starting a project, is to set up the right tools for the job. You should always have a wireframe or prototype software at hand, so that you can test your designs as soon as possible.
Pixel-perfect artwork is important because it gives developers something to build from and it also helps designers visualize their concepts in different dimensions.
Sketch is one of the best wireframe tools for designers because it has all the ideal features you might want in a typical wireframe program: Vector drawing, pixel-perfect previews, smart objects, easy exporting options playable prototypes, developer handoff, P3 color profiles, native font rendering, and much more.
There are some downsides to Sketch though. It's only available for macOS, so if you're on Windows or Linux, you can't use it. And because it's not cross-platform, the learning curve is steeper than other wireframe tools out there.
Webflow is a web design tool that offers a modern, intuitive interface. It is designed to make the process of designing and developing excellent custom websites and web applications easier.
Webflow puts at your disposal the power to design, build, and launch responsive websites in hours. It's basically the only platform that you can use to go from web frame to final product, with absolutely no code.
Webflow is not your average website builder – it has many features including unlimited storage, extensive customization, flexibility, password-protected pages, an embed feature to add HTML code, etc. It is similar to the latest web builder by Wix called Wix Editor X but seems a lot easier to use than WordPress.
This no-code builder has a simple drag-and-drop interface, which allows you to create your design without any coding knowledge. You can create layouts and then add content with ease. It also comes with a library of prebuilt elements that can be used as needed.
The website builder allows you to preview your site on desktop and mobile browsers, before publishing it live. This helps you find out if there are any issues or problems with the design before it goes live on the internet for everyone to see!
The best thing about Webflow is that it is a complete end-to-end solution for web design and development in one place. Designers can make wireframes, mockups, and layouts with their own stylesheets while developers can build and iterate their code in the same app, creating an integrated workflow. Developers can also make sitewide changes to their website designs without the need for third-party plugins.
It offers a great emphasis on customer support and also integrates with external email marketing services like Mailchimp, GetResponse, etc. making it possible for your website to send emails to your customers and subscribers directly from Webflow. You just need to connect your account with the email service provider and then select the desired lists or segments from within Webflow.
Moqups is one of the most popular wireframing tools on the market. It's easy to use and has an intuitive UI, which makes it a great choice for beginners and professionals alike.
The product is cloud-based and can be accessed from any device with an internet connection. This means that you can work on your project from home, in a coffee shop or even from a remote location.
The collaboration features are also worth mentioning as they allow you to invite other people to your project so that they can provide feedback on it.
This web-based prototyping app lets you create wireframes, diagrams, and prototypes in an easy way. It has a drag-and-drop interface that lets you switch between wireframes, diagrams, and prototypes without needing to switch platforms. You can also export your work in presentation-friendly formats.
It has a library of templates, stencils, icon sets, fonts, and objects to help you build websites faster. It also has a single unified workflow with no need to switch between different tools or versions.
Justinmind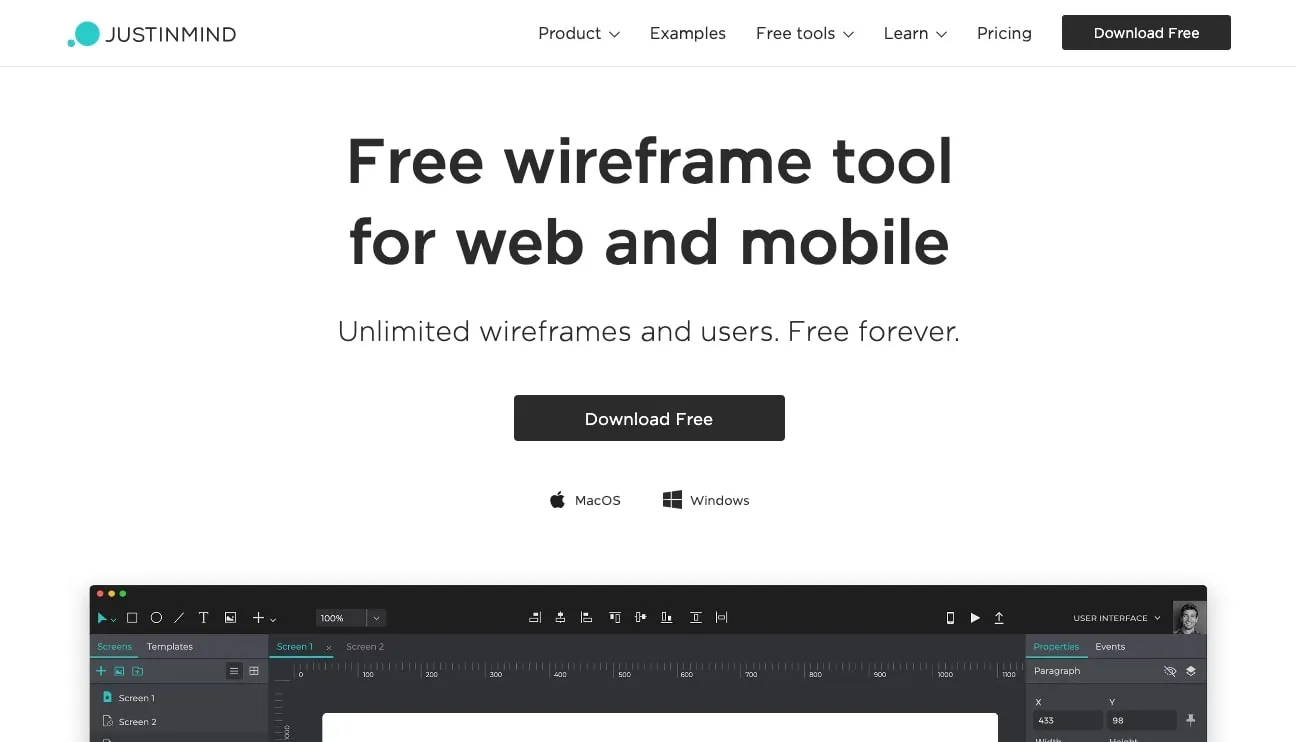 Justinmind is a powerful drag-and-drop wireframing tool that is used by designers and developers to create interactive prototypes. It has an easy learning curve and it's less complicated than Sketch or Figma making it an ideal pick for less techy designers.
It is easy to use, provides a UI that is simple, and has features that are free forever. Justinmind provides an intuitive interface with drag-and-drop features, which means it's easy to use even for newbies and beginners. It also has a wide range of interactive components and free design templates, so you can create interactive wireframes in minutes on iOS, Web, and Mobile.
Justinmind is a wireframing tool that allows users to create designs for their apps and preview/test/validate live without coding from your browser, it also offers a variety of constantly updated UI libraries that can be used to design screens and make them look more appealing.
The latest release of the Justinmind wireframing tool includes 4000+ prebuilt UI elements, an interactive library of gestures, swipe options, and animations that allow for quick start-ups.
It can be integrated with other design tools like Sketch, Illustrator, or Photoshop to import, embed, or link any SVG or vector file.
Justinmind is one of the most popular wireframing tools among designers and developers. It offers an intuitive and easy-to-use interface that helps you create interactive prototypes for mobile and web applications.
Balsamiq Wireframes
Balsamiq is a web-based, rapid low-fidelity wireframing tool that allows users to quickly and easily create wireframes for their website or application.
The program is designed for the purpose of sketching out rough ideas and features of an interface, website, or app before investing time into more detailed design.
Balsamiq Wireframes are a great way to sketch out ideas for a project. They can be used in the early stages of the design process to quickly explore different layout and content structure options, or as a way to present an idea before investing too much time into the project.
The goal of this tool is to help designers communicate their ideas quickly and efficiently without getting bogged down in details like colors or fonts.
Generating wireframe ideas can be a difficult task, especially when you are not sure of the best structure. However, with Balsamiq Wireframes, you can generate more ideas faster and stick with the best one. You can drag and drop all the elements on your screen to create a mockup of your product using the many available prebuilt widgets, this way the learning curve is much simplified.
The software has plenty of example stretch and wireframe skins for different use cases such as mobile app design or web app design.
It is a desktop app that provides a lot of built-in UI elements and helps designers to focus more on the user experience to easily create rich, interactive prototypes that work with your team and stakeholders to improve your designs before they're even built.
Balsamiq Wireframes is a low-fidelity wireframe tool that is easy to use for beginners, but it lacks the ability to create high-fidelity animations and large-scale prototypes.
Procreate
Procreate is one of the best apps for designing and creating digital art. It is an iPad app that provides a high-end experience. The app offers an accessible experience whether you're a professional designer or just someone who likes to draw in their spare time.
The Procreate app has been around for over 11 years and it has been constantly evolving with the times. It now offers more than just drawing tools, it also has tools for photo editing, painting, animation, and more.
A tool made for artists, but you don't need to be an artist to use this tool called procreate, it's nicely designed for sketching, illustrating, and prototyping artwork all exclusively from your iPad, for those that are already familiar with Photoshop, will relate better with things like brushes or layers.
You can sketch wireframes on paper it is sometimes faster and more flexible than using a design tool, but when you start having too many piles of paper and not enough space to keep and organize them, then it's time to turn to your iPad and Apple Pencil using Procreate.
Procreate can be used for your prototyping needs, mostly for designing wireframing landing pages during the ideation phase to explore a variety of different options and select the best one.
If you want to focus more on your work with little to no distractions such as notifications, emails, messages, and social media. , then use the app Procreate.