What are the best free keyword research tool in the market today? You're just about to find out!
The truth is, there is no shortage of keyword research tools for digital marketers. Many of these tools are freemium, offering only limited free sessions before requiring a paid subscription. While these tools are highly sophisticated and advanced in finding keyword opportunities, they can be quite expensive, especially for beginner bloggers and digital marketers.
Keyword research tools are essential for simplifying and streamlining your workflow. They help you find the right keywords much easily and provide other valuable data to help you make an informed decision on the right strategy to rank for such keywords. However, these tools don't come cheap, but the good news is that you don't have to empty your pocket to have access to a reliable keyword research tool.
As a seasoned digital marketing expert with years of experience doing keyword research and web positioning for clients, I will recommend a few great free keyword research tools that you can can use for your keyword research.
List of Best Free Keyword Research Tools
Below is a list of the best free keyword research tool available in the market today.
Google Keyword Planner is about the oldest keyword research tool, it's a compact excellent data mining tool that can be used for new product research and creating marketing campaigns. With this tool, you can find profitable keywords for your PPC campaigns, access reliable insights on relevant searches in your industry, and uncover money keywords related to your business.
This tool helps to properly plan your Search Engine Marketing campaigns and provides estimated traffic for potential keywords. Furthermore, Google Keyword Planner can unravel how competitive your money keywords are and keep you updated on the latest and trending searches and keywords.
Interestingly, GKP remains free to use, and you can access it from your Google Ads dashboard under the tools. Google Keyword Planner is also useful for supercharging your SEO strategy, learning more about your industry, customers, and competitors, and getting better organic search results.
Google Trends is another reliable keyword data tool that supports research, interests, and content creation. It is quite helpful for search optimization too. Users can get realtime update on what's going on in areas of their interest, niches industries and sectors, you can get insightful data to help you foresee trends.
You can use the data from Google Trends to help your clients get better results and provide much better visibility on trending searches. By using filters, you can target the specific data you need, and Google Trends is the most reliable tool to find event-triggered keywords and their search volume, leaving no room for guesswork.
You can know what people are searching for at any given time based on geographical filters, and quickly get insight on the type of content to develop fast. By creating custom stats subscriptions, you can get alerted either daily, weekly, or monthly depending on your settings, and get real-time trending subjects.
Google Trends blends in very nicely with Google Analytics and Search Console to provide users with powerful data, making it one of the best tools when it comes to finding hot topics of discussion in a particular country. It helps journalists and marketers to take a dive into story ideas.
Google Trends also uses data from Google Search Engine and YouTube, which are two of the best search engines in the world to provide real-time data. However, some downsides include the language detection, as Google Trends collects more English data, making it challenging to get data in other languages.
Nonetheless, Google Trends remains highly beneficial and reliable for anyone seeking to keep updated on trending topics and make informed decisions based on data.
Google search console is considered one of the finest traffic metric web apps from Google. It helps measure a website's performance and search traffic over time, making it suitable for fixing Google crawl issues and more.
The Swiss army knife of Google visibility is the Google search console; it provides unsugarcoated data on how your website is faring on SERPs. You'd get quality data on different aspects of your website such as most visited pages, index and non-indexed pages, and more.
GSC is a tool that has proven to be very helpful for web positioning and optimization strategy planning, allowing you to explore your websites'  presence on Google search.
Moreover, the GSC made website indexing a lot easier, allowing you to request a recrawl of your website periodically without needing to resubmit the sitemap. You can also get a first-hand report of keywords you're ranking for and their position on SERPs with a report on individual page rankings.
Also unlock more insights on metadata elements and tags used in your published content. Furthermore, the Google search console sends you alerts about security or technical issues relating to your website.
GSC is a must-have metric tool for digital marketers and anyone who wants to increase their organic traffic and take their online presence to the next level.
4. The Hoth (Editor's Pick)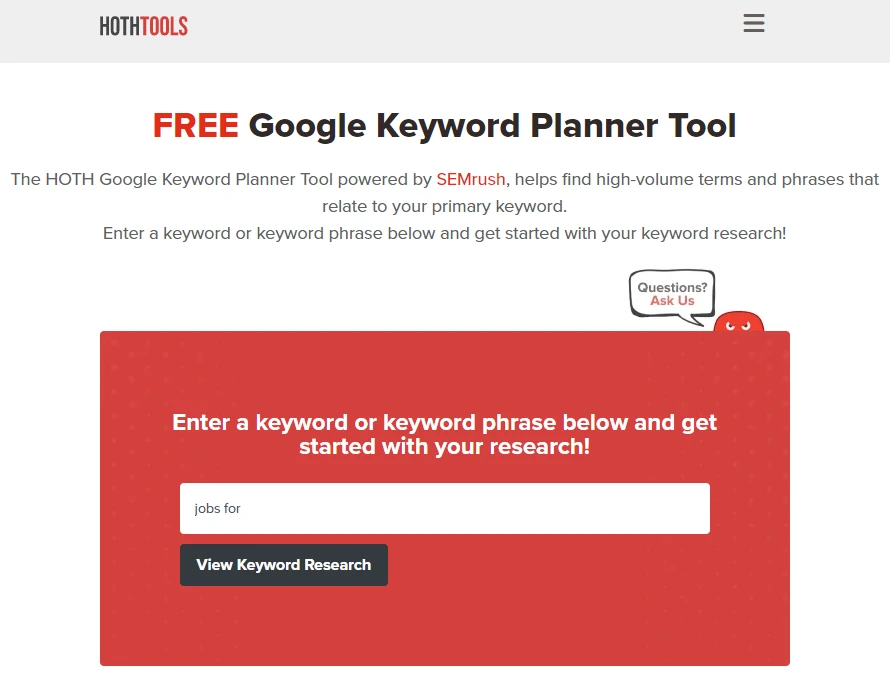 The Hoth is a Google Keyword Planner alternative that became popular just after Google's Keyword planner was limited, it has consistently delivered as a tool for finding high volume keywords and phrases based on your primary keyword.
The tool is powered by SEMrush meaning that it's data is much reliant on SEMrush. The interface of the Hoth Keyword planner is simplified for use allowing you to do sophisticated keyword research for your small or medium-sized business.
To use the tool, you can enter your primary keywords in the search bar, it will then provide you with a detailed list of potential keywords based on search, you'd get data on search volume of the keyword, results for each of the keywords, competitiveness, cost-per-click (CPC) index and trending up or down chart.
The Hoth has expanded the list of it's free tools with impressive additions such as the free google rank checker, backlink checker, SEO ranking checker, PPC calculator, headline generator, domain authority checker, SEO audit report and more.
I've personally used The Hoth is the early times of my digital marketing journey and I can confirm it's a great tool for those who want to set the ball rolling to find relevant keywords on a budget.
5. AnswerThePublic
AnswerThePublic is a generously powerful tool designed to uncover less crowded search demands, unlocking and untapping a goldmine of content ideas to supercharge your online presence. It is a nifty web app to help you quickly discover what people are searching on the internet based on your seed keyword. AnswerThePublic acts as a search listening tool for market research and listens into autocomplete data from search engines like Google, cranking out every useful phrase and question people are searching for around the world.
Users can filter their search using seed keywords, as well as by country and language. With AnswerThePublic, users get instant, raw powerful search insight data directly extracted from the minds of real users, giving them a direct line to their customers' thoughts. The tool enables users to step entirely into a new world of yet-to-be-explored keywords newly birthed from customers' increasing searches.
6. Keyword Shitter
Keywords Shitter is a web application that functions as a bulk keyword finder. It is a super cool tool for uncovering tons of long-tail keywords. With Keywords Shitter, users can get bulk quantity keyword ideas in minutes, and the best part is that it's free to use. The tool is incredibly efficient, allowing users to mine keyword ideas on a single click.
7. SEMrush Keyword Magic
SEMrush is a keyword research toolkit with power-packed features designed for content marketing, competitor research, PPC, and social media marketing. SEMrush, over time has proven to be an immensely usable tool for attracting new audiences as well as uncovering potential ranking opportunities through discovery of profitable keywords.
To have an in-depth and complete idea of how this premium keyword research tool works, SEMrush offers free trial for new users. It is one of the finest keyword research tool in the market today for light SEO work, and it is designed for both beginners and experienced digital marketing professionals.
SEMrush can mine keywords from competitors' websites and help to better empower your money pages with keywords that matters. It can find Broad, Exact, Phrase Match Keywords and uncover depths of Related Match Keywords.
SEMrush can quickly identify the Search Intent of keywords, discover long-tail keywords and ad group ideas, and explore the annual keyword trends data. It can unlock access to your backlink profile and toxicity check, and see CPC distribution statistics. In short, SEMrush is a complete keyword research toolkit that provides tons of organic traffic insights and keyword difficult analysis check.
Ahref, the well-known SEO tool recently released a suite of free SEO tools that utilize the same powerful algorithm as the premium Ahref keyword research tool. The tools offered include a keyword generator, traffic checker, keyword difficulty checker, traffic authority checker, and more. Although these free tools provide less data compared to the premium version of Ahrefs, they are still immensely valuable, particularly for beginners. With these tools, users can extract keyword ideas and benefit from having so much of a suite of keyword research tool for free.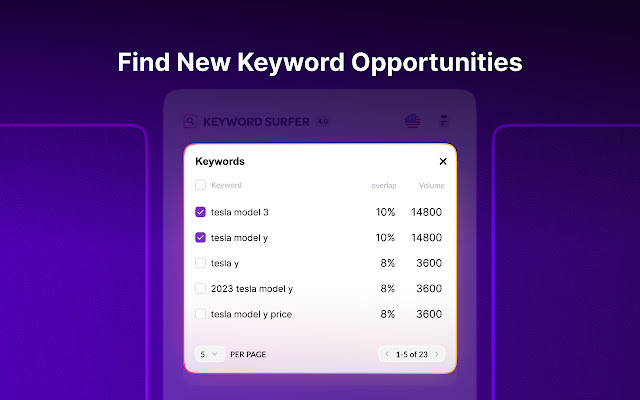 Keyword Surfer is a Chrome browser extension designed for content strategy and keyword research. It is a free alternative to Keywords Everywhere, and it is super lightweight, making it easy to find keyword opportunities right on Search Engine Result Pages (SERPs). In fact, the tool has a full-fledged and more robust SEO suite.
To make use of the free version of Keyword Surfer, you'd need to proceed to Google Chrome's web store to install the extension on your chrome browser or nay other web browsers that allows you to install chrome extensions such as Edge and Brave browsers. Once installed, you can naturally search for keywords on Google just as you always do. Hence, on all of your search result shown by google, you'd always see a handful of keyword suggestions with their monthly searches on the right-hand side of the page.
Not only can you use Keyword Surfer to find new keyword opportunities, but you can also use the tool to instantly start creating articles based on those keywords.
10. Jaaxy
Jaaxy's new age keyword research tool provides access to a pool of 500 million BRAND NEW keywords searched on Google everyday, while also cracking access to the hardest to discover metrics, mastering keyword research, and ranking. Jaaxy produces the keyword data you need in a matter of seconds. Plus, Google, Bing, and Yahoo data are directly extracted in Jaaxy, giving you a competitive edge for your online presence.
Its workings are similar to other keyword research tools. You can input your keyword, a topic, or URL, and Jaaxy will generate a handful of suggested related keywords. But what sets Jaaxy apart is that it can "dig" as deep as you want, allowing you to uncover valuable opportunities for your online business.
One particularly interesting feature is that Jaaxy can help you find affiliate program opportunities. Just switch over to the Affiliate Programs tab to see opportunities for the keyword or niche you're researching. Accessible affiliate programs include Commission Junction, Link Share, Digital River, and ClickBank.
And the best part? The first 30 searches are free (with 20 results each). Using Jaaxy can save you hours per week on your keyword research.
11. QuestionDB
QuestionDB is a free keyword research tool much useful for getting insights on questions your target audience are asking across platforms on the internet. QuestionDB is one of the easiest-to-use free keyword tool that we tested in the course of writing this article.
By entering a broad keyword, you can unlock untapped content ideas and create more useful content. The name suggests it's a question database, and that's exactly what it is! When you input a keyword or broader topic into the tool, it furnishes you with a list of related questions other people are asking online in relation to that keyword or niche.
QuestionDB pulls data in real-time from top search engines such as Google and Bing. It tries to extract all the questions asked across platforms on the internet on other sites like Reddit, Quora, and Stack Exchange. The best part is that it's free for up to 50 results! With QuestionDB, you don't have to spend hours searching for content ideas.
12. H-supertools
H-supertools is a recent entrant of all the keyword data tools on the list and it's doing a pretty good job already.  It was developed and designed by Hassan of H-educate, a YouTuber and web developer.
Hassan has created a vast library of awesome digital marketing tools which h-supertools keyword research tool is one. It is Free to use, although the data provided from the tool is pretty basic and moderately accurate, with a competitive analysis feature.
H-supertools is useful for anyone who wants to grow their traffic without spending much on premium keyword research tool, it also helps to understand searchers intent.